If you're already planning your Spring Break island getaway, you've probably started looking into functional fashion choices for beachy weather. It can be jarring going from a colder climate to someplace tropical. As a result, it's best to be as prepared as possible. One item on your "To-pack" list should be a sun visor. Here are the pros and cons of this tropical hat essential.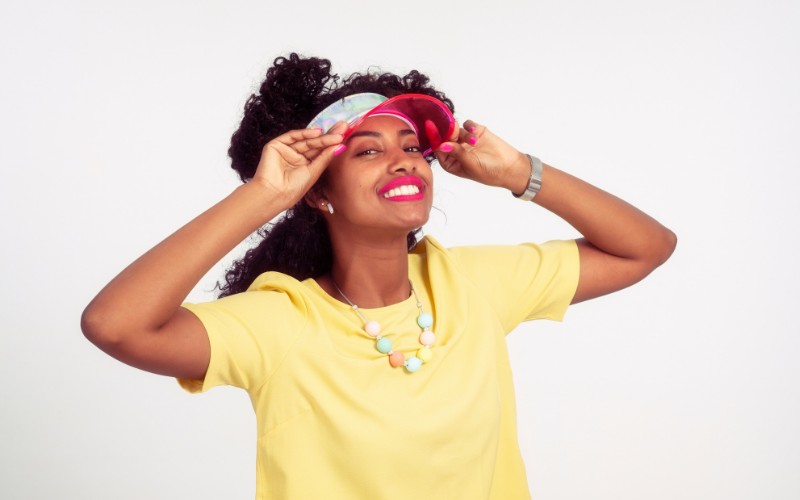 Pro: Sun visors provide greater visibility. 
When the sun is shining bright in the sky, it can be difficult to see anything unless you're facing away. You don't want to spend your whole vacation squinting. In order to take in your beautiful surroundings, wear a visor. You won't miss a single second of watching the waves roll in or children flying kites with your improved visibility.
Con: Sun visors don't project your scalp from the sun. 
If you're planning on wearing a sun visor, you need to have thick hair that will block out the sun's rays. Otherwise, you might end up with an unintentional sunburn on your scalp. If you need to wear a sun visor and have your hair parted, make sure you apply some kind of sunscreen before heading outside. Check out this article for essential tips on sun hats.
Pro: Sun visors keep you cooler than other kinds of hats.
If you're hanging out somewhere tropical or just live in an area where the summers get toasty, you're going to want your hat to keep the sun out of your eyes while also keeping you cool. Visors aren't enclosed, like sun hats or baseball caps. This means that heat never gets trapped next to your scalp. As a result, you'll probably be much cooler in a sun visor in high temperatures, making them perfect for prolonged wear.
Con: Sun visors shouldn't be used to protect against skin cancer. 
If skin cancer is a risk factor for you, a sun visor isn't your best line of defense. According to the Skin Cancer Foundation, a wide brim hat is your best line of defense in addition to sunscreen and staying in the shade. A visor shouldn't be used for skin protection. If you're in direct sunlight, take the necessary precautions to reduce your risk of exposure to harmful UV rays. 
Pro: Sun visors are great for active lifestyles. 
If you play sports like golf or tennis, a sun visor is the perfect hat for you. Sun visors are adjustable, so they have a custom fit to your head. That way when you start to move around your visor reliably stays in place. You'll never miss a swing on account of the sun again if you're wearing a sun visor.
Pro: There are fashionable visor options. 
When you're snapping pictures on vacation or someone captures your golf swing, you want to make sure you look your best. When you think of a sun visor, it might conjure up an image of a card shark's clear visor. If you think visors aren't fashionable, think again! Sun visor fashion has come a long way. You can get them in a variety of materials, like straw. Check out this popular straw visor on Amazon. Some are more masculine and feminine looking. Shop around to find your fashion fit.