Every country or region in the world that celebrates Christmas does it a little differently. For instance, British Christmas celebrations include roast turkey, Christmas crackers, and paper hats.
Even if you're British, you may be curious about this tradition; why do Brits wear paper hats at Christmas? 
Brits wear paper hats because they're found in the Christmas crackers that are novelties on many dinner tables.
The tradition of wearing paper crowns may be traced back to Twelfth Night celebrations and plays when two people playing king and queen wore paper hats to denote their status.
This article explores the history behind paper crowns and how they became integral to British Christmas. It also explores some other popular British Christmas traditions.
Why Brits Wear Paper Hats at Christmas
For over a century, the Brits have worn paper hats during Christmas festivities – especially lunches and dinners. There are several possible reasons why they wear paper hats.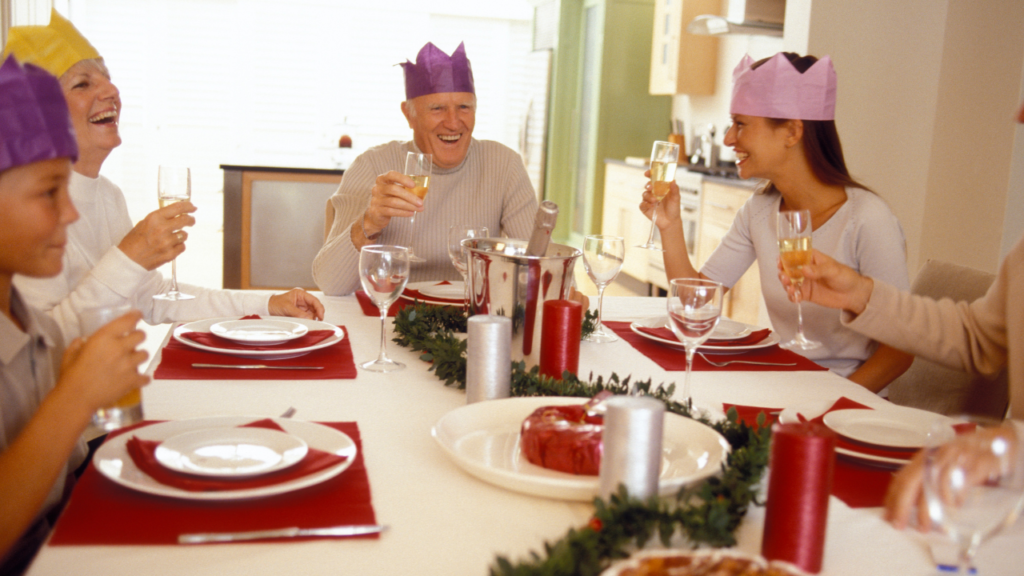 Paper Hats Were Popular in Saturnalia Celebrations
In Ancient Rome, Saturnalia was a celebration honoring Saturn, the Ancient Roman god of wealth and agriculture. It was celebrated at the end of December – typically around the same time, we celebrate Christmas today. During the festival, many attendees would wear hats or decorative headgear. 
This tradition was passed down several generations. Even though many British citizens don't celebrate Saturnalia anymore, they still keep the tradition of wearing festive headgear on special occasions.
They may wear intricately decorated hats for weddings, while they wear fun paper hats for Christmas!
Read this article to find out the origins of the Santa hat.
They Were Used in Twelfth Night Celebrations
Some people celebrate Epiphany Eve, also known as the Twelfth Night, twelve days after Christmas. On Epiphany Eve, people celebrating tend to go to church, sing carols and eat a special cake.
A dried bean or pea was cooked into the cake. Whoever found the bean or pea was declared the 'King,' 'Queen,' or Lord or Lady of Misrule. They were responsible for leading the celebration festivities and had to dress like nobility. Part of their costume included wearing a paper hat. 
The tradition of wearing a paper hat may have been passed down from Twelfth Night celebrations. However, in today's festivities, everyone attending the gathering gets to wear a paper hat. It's not just limited to the Lord or Lady of Misrule!
Paper Hats Are Found in Christmas Crackers
Paper hats were used in both Saturnalia and Twelfth Night celebrations. However, their widespread use and popularity can be traced back to the invention of Christmas crackers.
Crackers were first introduced to England in 1846 or 1847. Some accounts suggest that Gaudente Sparagnapane, an Italian confectioner, began selling crackers in the UK in 1846.
Many more people believe that Tom Smith, another confectioner, is the cracker's creator. He originally began selling the English version of the French 'bon-bon' – a candy wrapped in paper. He began adding love mottos to the inside of the paper and then decided to replace the candy with small gifts.
He added silver fulminate snaps to the packaging, resulting in the cracker making the signature 'pop' sound when it was pulled. After Tom Smith passed away, his son Walter Smith began adding paper hats to the Christmas cracker.
As Christmas crackers became more and more popular across British households, so did paper hats.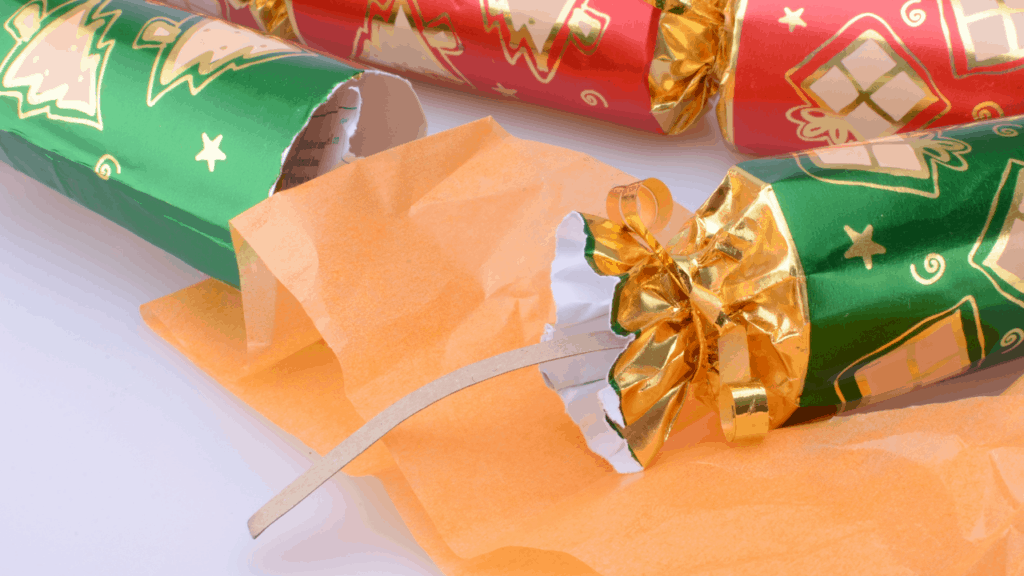 Where Can You Get Paper Hats?
Paper hats are found in many Christmas crackers. However, you can also get paper hats from several other places.
Buy them online. Online e-tailers like Amazon.com have a wide selection of paper hats. If you're looking for paper hats made with tissue paper, Rimi Hanger Christmas Party Hats are an inexpensive option on Amazon.com. Or buy Christmas crackers with the hats inside, also on Amazon.
Find them at novelty stores. Most novelty and part stores will have paper hats for sale. They'll become especially prominent during Christmas, but most stores will stock them all year round. 
Make your own. If you enjoy arts and crafts, why not try making your paper hats? Paper hats are relatively simple to make; here are some instructions. You can put your unique spin on the hats you craft through decorations, quotes, and stickers. 
What Are Some Other British Christmas Traditions?
If you're interested in the British tradition of wearing paper hats, why not explore some other British Christmas traditions?
Putting Up Stockings
A few days before Christmas, households will put up a variety of Christmas stockings. Children believe that Santa Claus will fill these stockings with gifts ready for them to open on Christmas Day. Children also believe Santa will fill the stockings with coal if they misbehave through the year, encouraging them to stay on their best behavior!
Putting a Silver Coin in Christmas Puddings
Most Christmas puddings will have a silver coin baked into them. The silver coin will bring luck to the person who finds it in their slice of pudding. In King Edward's court, the person who found the silver coin would be crowned a King or Queen for the day – a tradition similar to the Twelfth Night celebrations.
Serving Turkey
There are several traditional foods and drinks served during Christmas meals. Perhaps the most iconic is roast turkey. At the end of the year, chicken and cows would be in short supply, as farmers needed them to lay eggs and give milk. So, the Christmas meal would feature geese and wild boar.
Turkeys were brought to the UK in the mid-16th century. They quickly became the traditional meat at Christmas meals. 
Eating Mince Pies
Another iconic dish on the Christmas menu in Britain is mince pies. Mince pies are pastries filled with dried fruit and spices. There are traditional recipes for mince pies, but recent decades have seen each family and area put its unique spin on the pies. 
Mince pies are served and sold throughout the entire Christmas season.
Listening to the Royal Christmas Message
In 1932, King George V used the radio to present the British Empire's first live royal address. His daughter, Queen Elizabeth II, continued the tradition. Today, she gives a live speech on television at 3 pm on Christmas Day, and thousands of people worldwide tune in to listen.
Going to a Pantomime
Many families go to a pantomime on Christmas Eve or Christmas Day. Pantomimes are thought to have evolved from celebrations during the Saturnalia festival when the Lord or Lady of Misrule had a direct performance.
Today, pantomimes are based on children's stories such as Snow White, Pinocchio, and Sleeping Beauty. Pantomimes often involve audience performance – actors will break the fourth wall and ask the audience to answer questions or help.
Filling Shoeboxes
At Christmas, many people in Britain turn their attention to the less fortunate. One way they do this is to fill shoeboxes with toys, clothes, and packaged food. They give these shoeboxes to orphanages or charities to be distributed to the needy.
This is a relatively new tradition. In 1990, David Cooke and his wife organized a collection drive for orphans in Romania. They decided to pack donations into shoeboxes as they were easily transportable.
Conclusion
Brits wear paper hats at Christmas because it is a tradition. The tradition has passed down centuries from Saturnalia and Twelfth Night celebrations. However, it became widespread when paper hats were put in Christmas crackers. In addition to wearing paper hats, a range of other British traditions can be observed in every British household.