Timeless and versatile, straw hats take on endless sizes, shapes, and styles, making them an undeniable favourite amongst hat enthusiasts everywhere. While the straw material used in so many of our most loved accessories has many great qualities, it doesn't escape the natural wear and tear of months and years of good use.
More specifically, straw hats can become loose and misshapen with time as the fibres become more malleable, oftentimes compromising the right fit.
Tightening your straw hat can sound like an intimidating task, but it certainly doesn't have to be. A few quick tips can have you back in your best hat in no time:
Spray the hat with water
Steam the hat
Adjust the shape
Air dry
These steps might seem straightforward – and that's because they are. At the end of the day, straw hat maintenance is all about proper handling. When in doubt, just be gentle and take a deep breath!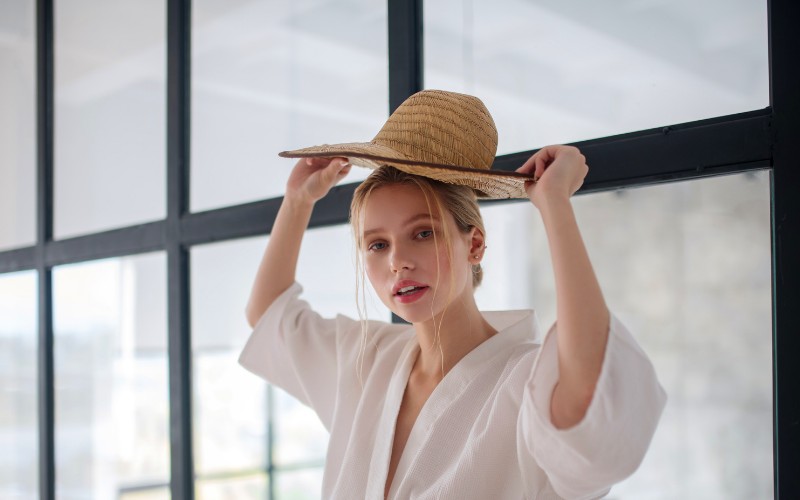 1. Spray the hat with water
Straw hats might also suffer from cracking, which is why it's important to always keep them hydrated with baby wipes or lightly dampened towels. When you're looking to tighten your straw hat, this first step follows that same logic. It may seem counterintuitive, but lightly spraying your hat with some water will ensure that it is malleable all around, and can also help to prevent damage to your hat during the rest of the tightening process.
2. Steam the hat
Gentle steaming is another step recommended for hydrating your straw hat on the day to day, but this takes it one step further. The steam you're looking for here is slightly more intense, such as the steam shooting out from a kettle of boiling water. While the moisture from the steam will continue to hydrate the straw fibres, and the heat will further prepare the hat for the shrinking/tightening process.
3. Adjust the shape
Once your hat feels flexible and malleable, take some time to double check on the shape, making any adjustments that may be necessary and to your liking – now all there's left to do is dry!
4. Air dry
Straw hats need to be air-dried, a fact that is especially important to remember during the tightening process. Make sure you place your hat in a hot environment that you feel can dry your piece efficiently. At the same time, keep in mind it might be smart to avoid extreme circumstances (like direct sunlight!) that can have a negative effect on the straw fibres of your hat. Once you've found the perfect place, make sure to check on your hat periodically and try it out to see if you've achieve your desired size.
For upkeep, storing your straw hat in cool, dry places and continuing to consistently hydrate its fibres will do the trick! These are both quick, easy, and great ways to be proactive about hat care, ultimately ensuring they stay in great condition for years to come.  
Get tips on how to stop a straw gat fraying in this article.