While some sunlight can be good for our bodies and minds, spending time outside in the sun without proper protection can be dangerous. That's why it's crucial to have a sun hat on hand for those bright and sunny summer days. But choosing one can be challenging if you're not sure what to look for!
When choosing a sun hat, choose a one with a high ultraviolet protection factor (UPF), a wide brim, and plenty of neck protection. It's also vital to select a dark-colored hat, as these tend to block more rays than lighter options.
Sun hats come in a wide variety of shapes and sizes, and they're not equally protective. To help you pick the best option for your outdoor adventure, we'll review some of the features to look for when choosing a new sun hat.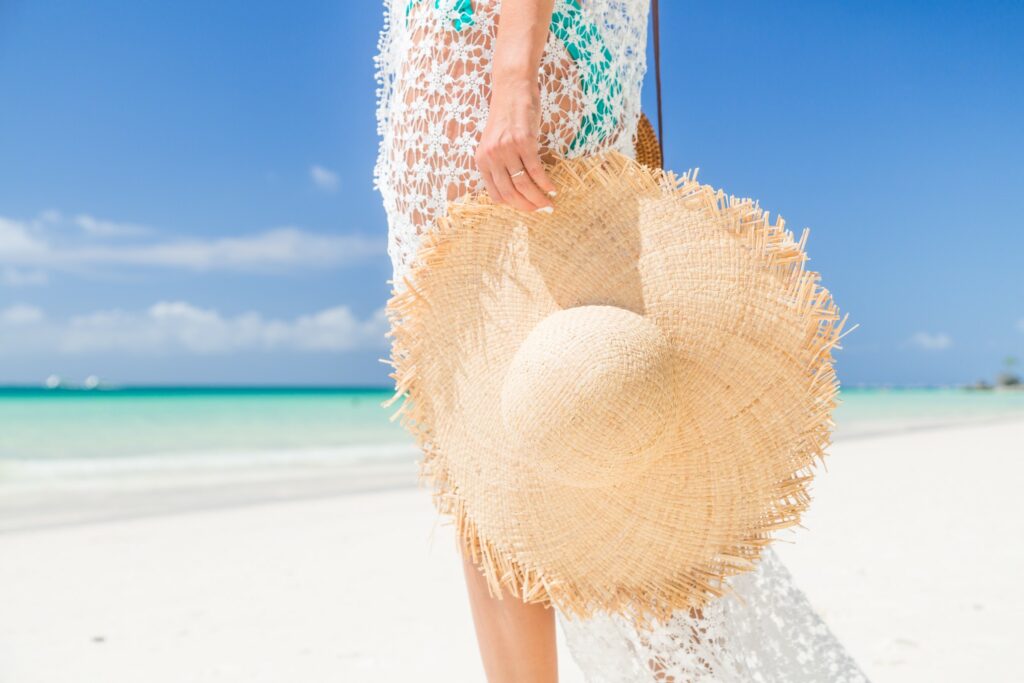 UPF Protection
The best sun hats offer superior protection from the sun's radiation. Some hats have an ultraviolet protection factor (UPF) rating, which indicates how much ultraviolet (UV) radiation the material blocks.
Choosing a sun hat with a UPF rating of 50 or greater can help you protect your skin from the more harmful forms of sunlight. However, anti-UV fabric works best when paired with smart design choices, like wide brims. Read more about UPF rating here.
Wide Brims
Sleek sun hats might be fashionable, but they can also fail to protect your face from the sun. That's a significant problem. As such, it's crucial to choose a sun hat with a wide brim.
Some women's wide-brimmed sun hats have a classic, glamorous look that may suit your vintage one-piece bathing suit. Others are far more utilitarian, looking somewhat like casual safari hats or flattened fabric pith helmets. Read more intriguing facts about pith helmets here.
Either way, a wide brim can help protect your face from detrimental ultraviolet (UV) radiation. However, there's no reason to stop at face protection. Many sun hats also have special bits of fabric that hang down across the ears and back of the neck, keeping them safe from harm. This Cumbria hat on Amazon is a great example of a highly protective wide brim sun hat.
Neck Protection
Baseball-style caps might be stylish and easy to wear, but they offer little sun protection. On the other hand, some sun hats feature baseball-style brims and crowns but with added flaps along the sides and back.
These bits of fabric help shade your neck, ears, and upper back from harsh sunlight. If you choose a sun hat with protective sides, be sure to get one with a high UPF rating. It's also a great idea to choose a dark-colored hat.
Dark Colors
There's a long-standing myth regarding dark-colored clothing and sun damage. Dark clothing is known to absorb heat more quickly than light clothing, which has led many to speculate that it's best to wear light-colored clothing during the sunny summer months.
However, recent evidence says otherwise. Darker fabrics can help protect your skin from harmful UV rays because they absorb more UV rays than light clothing. A white t-shirt allows sunlight to pass through and reach the skin, but a dark black t-shirt soaks up the most UV rays. Discover more about the importance of color and sun hats here.
Stability
If you're already browsing for sun hats, then you may have a few candidates in line. But you'll want to check your hat's stability before making any purchases. Some hats have securing straps and strings to keep your hat in place while you're wearing it.
It's an excellent idea to choose a hat that comes with some type of securing mechanism, especially if you live near the ocean or in a windy region. Sun hats are often designed to be lightweight and comfortable, but they sail away on the wind if improperly secured.
Conclusion
You'll want to ensure that your new sun hat has a high UPF, offers plenty of neck and face protection, and is available in darker colors. These features can provide maximum skin protection while out in the sunshine.
It's also an excellent idea to choose a sun hat with adjustable strings or straps. That way, if a sudden gust of wind blows your way, you won't end up chasing your hat down the road! Sun hats come in many styles, and you can easily find an option that suits your taste and budget.