With Spring quickly approaching, it's just about time to head outdoors and prep your gardens. Gardening, although relaxing, is also hard work. You spend a lot of time out in the elements, especially if you have a large, outdoor garden.
The weather only gets more intense as the gardening season progresses. In order to keep you cool and prevent a nasty sunburn, you'll want to find the perfect gardening hat for your needs.
Gardening hats are one of your most important gardening supplies. Different types of gardening hats will be better depending on your needs. Here are a few tips for choosing the right gardening hat for you.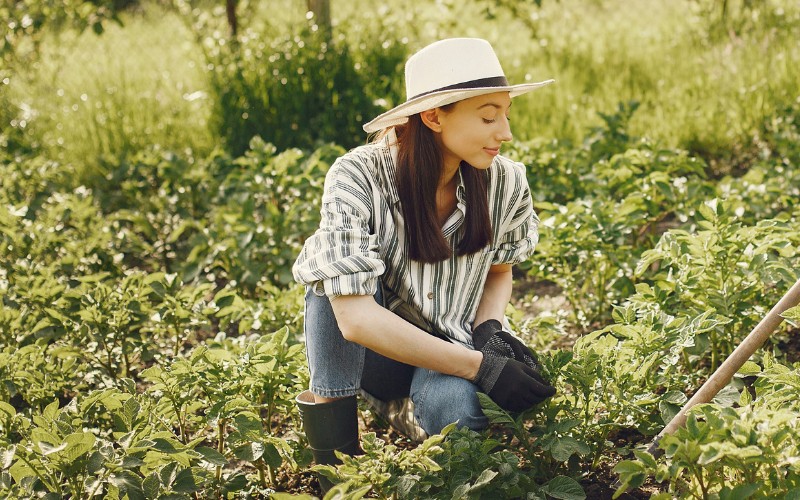 Consider garden hat material options.
Before picking a gardening hat, it's important to consider what type of material will work best for your outdoor needs. There are a lot of straw gardening hats on the market, which might be perfect for you; however, if you're someone who doesn't enjoy wearing sunscreen outdoors, straw might not be your most protective option. Here's your guide to gardening hat materials.
Straw gardening hats
There's a lot that's great about straw gardening hats. That's why they're featured so heavily in films and television shows when a character is out gardening. Straw gardening hats are water resistant, in case you get stuck in an unexpected Spring shower or a loved one has a little too much fun with the hose.
Straw hats also have a loose enough weave to release heat from your head. If you find yourself overheating in the summer mornings or early afternoons, a straw hat might be perfect. The problem with a loose weave is that it doesn't provide a lot of protection from harmful UV rays, so it's best to pair a straw hat with at least an SPF 30 sunscreen.
Check out this great option on Amazon.
Denim, canvas, or synthetic fiber gardening hats.
If you're not one for wearing sunscreen while you garden, you should choose a hat that's going to provide more protection to your skin from UV rays. Dark, tightly woven fabrics like denim, canvas, or synthetic fibers can help you out with that. It might just mean you want to avoid the warmest parts of the days, though, because you won't get as much ventilation from these types of hats.
A bucket or boonie hat would be perfect for gardening. A plus side to these materials is that they're washable, so if you sweat in your hat, you can simply throw it in the washing machine, and your gardening hat will be as good as new.
Very popular outdoor hat ideal for gardening (Amazon).
Only go for wider brims.
You have to lean over a lot when you're gardening. If the brim of your hat is too short, the back of your neck will be exposed to the sun. That's a recipe for a bad sunburn. Make sure the brim of your hat is at least 7.5 centimeters to provide protection.
Visors should be avoided at all cost when it comes to finding a gardening hat, because they won't protect your neck at all. Test it out before you commit to buying your hat to see if your neck is exposed when you bend over. On the flip side, you don't want a floppy beach hat that will provide protection, but get in the way of your work by drooping down. You have to find your happy medium.
Pick a hat with a drawstring.
There's nothing more frustrating than being in the middle of planting a row of tomatoes when suddenly the wind sweeps your hat away, and you have to make a run for it before it ends up in the neighbor's yard.
Your perfect gardening hat should probably have a tie or drawstring feature to help secure it to your head on particularly breezy days. Explorer hats, boonie hats, sun protection hats, and some straw hats have this feature, making them among the best options for gardening hats.