Have you ever been told that a dress code is business casual and worried about curating your outfit for that event? You probably spent a lot of time wondering what you should and shouldn't wear in order to have an appropriate outfit.
Even though the word "casual" is in the description, how casual is too casual? Should you wear a tie? Are hats considered business casual? The last thing you want is to accidentally commit a fashion faux pas. If you're a hat lover, here's what you should know about navigating business casual gatherings.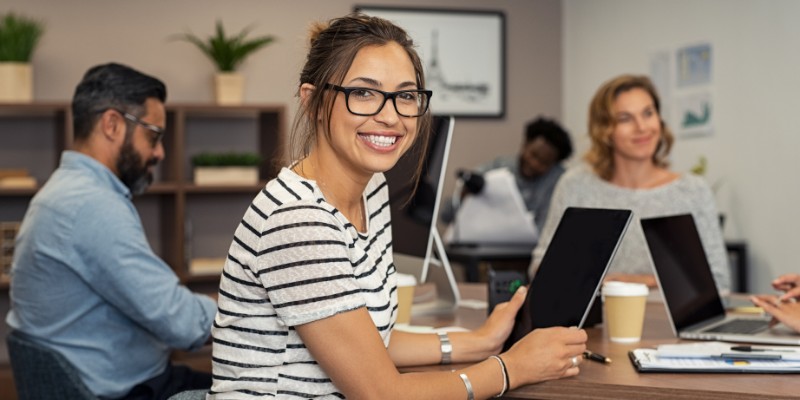 What is the definition of business casual?
Don't beat yourself up for not knowing the definition of business casual. The definition is actually quite open and can differ depending on where you are and who you work for. As a result, you might be getting some mixed messages. Thankfully, there are a few consistencies about how you can define this look. Here are a few guidelines to help you get started.
Business casual is more relaxed than your regular work attire.
That being said, business casual is still professional looking.
Jeans are acceptable, but shouldn't have holes and should probably be a darker wash.
If you feel like nice jeans wouldn't be acceptable at your workplace, wear khakis or chinos. Reassess based on what other people are wearing.
Close toed shoes, like nice boots or flats, are great if you work somewhere where you usually wear heels.
Cardigans, blazers, and jackets are an easy way to make any outfit more professional.
There's more leniency with accessories. Infuse some personality with scarves or other accessories.
Are hats appropriate for business casual?
This is a great question. Hats are certainly a fun way to infuse personality into your style. Some hats are more appropriate than others. For example, a baseball cap probably isn't a great option for business casual attire.
As a general rule, if you could wear the hat with an extremely casual outfit, like sweatpants, it's probably best to stay away. On the other hand, a hat like a beret or a wool fedora is going to work much better with a business casual outfit.
It's important to note that according to hat etiquette, you probably shouldn't be wearing a hat inside. People probably won't bat an eye if you're wearing a hat inside during a social event, especially if it goes with your outfit; however, the business setting might not be so forgiving.
Whether or not a certain type of hat is appropriate would be a great question to ask your employer. If you work for an arts organization who is used to working with creative types, you may have more wiggle room than if you work at a law firm.
Can I wear a hat to an outdoor, business casual event?
In the case that you're going to a networking event that's outdoors, you may want to wear a hat to compliment your style and keep the sun off of your face. Take for example Selling Tampa on Netflix.
The real estate agents are entertaining their potential clients outside in the Florida heat while still adhering to business appropriate attire. In this case, wearing an upscale sunhat while on the patio would totally be appropriate.
Use your best judgment and don't be afraid to ask questions. If you love wearing hats, it might be worth talking to your employer. It doesn't hurt to ask.