Hats come in all different shapes and sizes! Sizing can be a headache if you're not sure how to do it properly. You could go into a hat shop to get sized, but why waste the extra time when you can do it yourself? It's actually a much easier process than you might think. You probably already have everything you need to accurately find your hat size from the comfort of your own home. Here are a few tips that will help you measure your head to find the perfect hat size every time.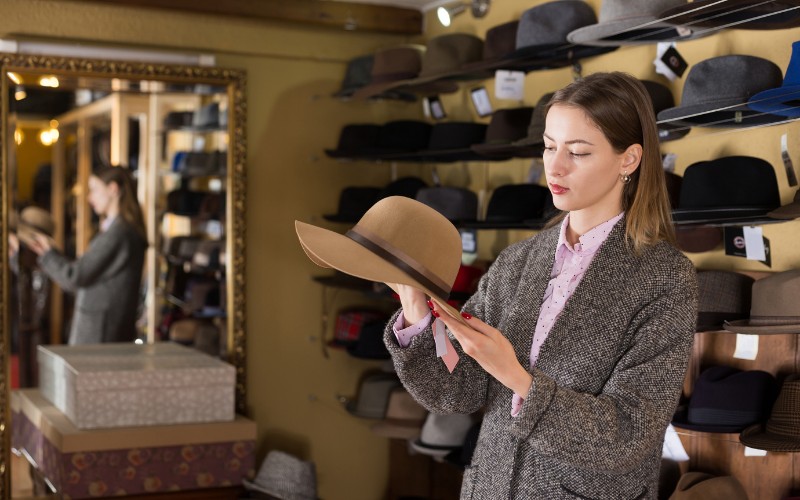 1. Gather your measuring equipment. 
In order to measure your hat size, you'll obviously need a measuring tool. The most ideal measuring equipment is measuring tape that's used for sewing. Sewing measuring tapes already have the measurements on them and are flexible, so you can easily wrap it around the circumference of your head.
If you don't have a measuring tape for sewing, don't run out to your local fabric shop just yet. There's another way you can measure. If you have a ruler or a measuring tape used for construction, grab a piece of yarn, wrap that around your head, mark where the two ends meet, and then measure the yarn with your ruler or construction measuring tape. 
2. Position your measuring tape in the right location. 
In order to get the most accurate reading, you'll want to wrap your yarn or measuring tape around your head, so that it hits above your ears. On the front of your face, the tape should cover your eyebrows. Try to make sure the tape stays even from front to back. Ensure that it doesn't dip down in the back for the closest measurement.
3. Remember to leave a little room. 
As a rule of thumb, after you have your measuring tape or yarn initially positioned, you'll want to put one of your fingers underneath the tape to account for a little extra room. You don't want your hat to be so tight that it's uncomfortable. Leaving a finger's width of room in your measurement should give you a comfortable and accurate fit.
4. Record your size. 
Once you've got your measurement, make sure you write it down somewhere you'll remember. If you're a hat aficionado, you'll want easy access to those measurements, so you can refer to them every time a hat catches your fancy. It might not be a bad idea to record it somewhere in your phone where it's easy to find.
5. Read sizing charts carefully.
Just because you're considered a size small in one brand of hat according to your measurements, doesn't mean that every brand adheres by the same sizing structure. Before purchasing a hat online, refer to your measurements and the sizing chart. This will prevent you from ever needing to return an online hat for sizing issues. It also means you'll be able to wear your hat out on the town right away!
Measuring your hat size is simple. Take your time measuring and ask a friend for help if you're having a hard time keeping the tape at the right level above your ears. Now that you've got your measurements, have fun on your hat shopping spree!