If you're a guy interested in taking your outfit to the next level while still dressing up, a hat can be just the right accessory. Wearing a hat with a suit is definitely allowed—just so long as you do it the right way.
Whether you're going to a wedding or hitting a fundraising gala, wearing a hat can be a great way to showcase your "cool" factor, even if the bulk of your outfit is similar to 90% of the other men in attendance.
When you want to get the most mileage out of wearing a hat with a suit, these top tips can help you do so with style. From picking the right hat to choosing the right color, here are our top tips for wearing a hat with a suit.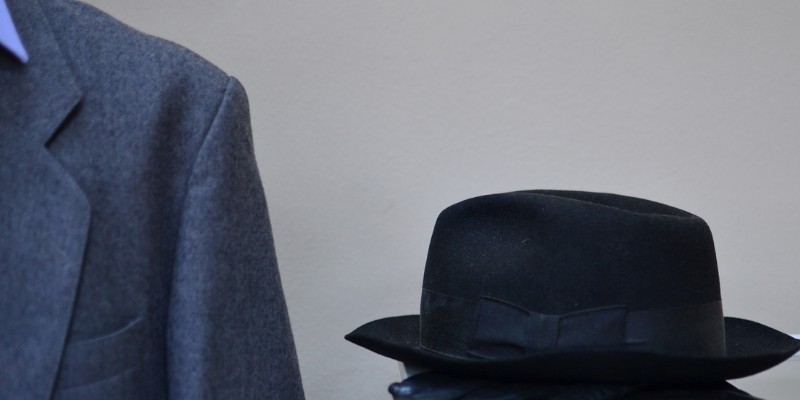 Pick the right style of hat.
It goes without saying that not every hat works with a suit. Although your ball cap may match colors with your boutonniere, tie, or pocket square, that doesn't necessarily mean it's formal enough to fit the bill. Remember that suits are generally formalwear, meaning that there should be some level of decorum to the hat you pick to coordinate with your suit.
Some of the best options for hats to wear with a suit are the fedora, trilby, bowler, and pork pie. All of these have a refined sense of fashion that has withstood the test of time, and many of their association with older, classic looks make them perfectly at home on your head while you're wearing a suit.
A pork pie, especially, offers a sharp, low-profile option to really stand out from the rest of the crowd and is one of the many hat styles making a comeback.
This popular Fedora hat on Amazon works well with a suit.
Coordinate colors between your hat and your suit.
This is one of the most obvious tips on this list, but it goes a bit deeper than picking a black pork pie hat to match your black tuxedo or a brown fedora to match your brown suit. For example, if you're going to wear a hat with a hatband, this gives you the opportunity for some double coordination.
If you're wearing a black suit with a mauve pocket square, consider finding the same shade of mauve for your hat's band. This will add even more elegance and class to your outfit.
Consider textures if possible.
Again, this will, in part, depend on what sort of hat you're choosing, but a linen hat to match a linen suit can be the perfect way to coordinate your outfit and stay cool at an outdoor event like a beachfront wedding.
The right texture will really nail the match between your hat and your suit, so spend some time thinking about texture at the same time you consider various hat styles to pair with your suit.
Have a comb in your suit pocket.If you're going to a formal event like a wedding, you may find yourself dancing or needing to take your hat off at some point in the evening. Carrying a comb in your pocket ensures you'll look dapper with or without your hat.