Between the dusty weather, hikes, yard work, rainy days, hot summer adventures, and beach escapades a baseball cap has plenty of opportunity to get dirty. If your much-loved baseball cap looks broken and beaten up the good news is you can learn how to clean a baseball cap the right way using things you already have at home.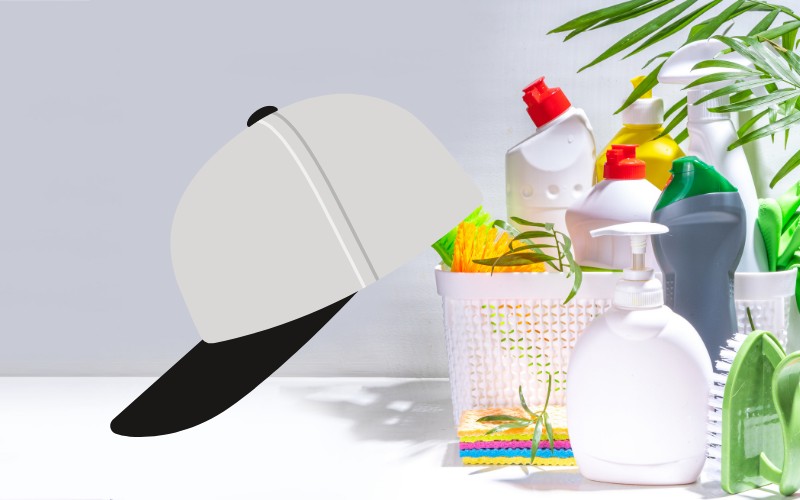 Here are a few tips to consider before washing your baseball hat:
Skip the washing machine
Don't just toss your hat either in the washer or the dryer. The weight of other clothes can squish the hats form and tumbling isn't good for the shape. It is better to avoid the washing machine altogether. If you can't be convinced to not use a washing machine then at least use a hat washing frame. This will go some way to keep your hat in shape.
You can check out this popular hat washing frame on Amazon.
Don't use the dishwasher
Most dishwasher detergents are bleach based and the appliance runs on high heat that can damage fibers which can spoil the hat. The conditions of our dishwashers are completely inappropriate for your hats and are very likely to cause serious damage to your beloved accessories.
Avoid products with bleach
Bleach can ruin the color of your baseball hat. Avoid products that may have bleach in them. Use gentle detergent to clean your hat instead.
Hand wash the hat
When your favorite baseball cap needs a quick refresh,  handwash it to retain the shape and the color of the hat. These steps will work wonders if you want to give your hat a quick refresh or want to deep clean sweaty and dirty caps. Your hat will smell and feel brand new.
What you will need:
An old toothbrush or a small scrubbing device
A bleach-free detergent
A potent stain remover or detergent in case of tough stains
A bucket, a small tub, or a sink that is big enough to fit your hat inside
A towel
A round object to dry the cap on such as a bowl, a melon, a bunched up towel, or a coffee tin
Quick baseball hat cleaning tips
Step 1: Use a small tub or a basin and fill it with cool water. Add in a mild detergent of your choice and agitate the mixture to create some studs.
Step 2: Swirl the hat around and submerge it in water for 5 to 10 minutes.
Step 3: Rinse thoroughly to wash away dirt and any remaining detergent until the water running through it is clear.
Step 4: Gently squeeze the hat to remove some of the water. Avoid squishing the brim, which will lose its shape if twisted. Instead, dab it with a towel to remove the excess water.
Step 5: Fill the cap with a newspaper, a bunched-up towel, a small bowl, or any other container that mimics the shape of your head.
Step 6: Leave it to air dry. Letting the hat air dry is by far the safest option.
Baseball hat deep cleaning tips
If your hat is very dirty then you may need to opt for a deeper cleaning process:
Step 1: Fill a clean tub or basin with cold water, then add a stain-fighting detergent of your choice.
Step 2: To target specific stains, use a toothbrush or a small scrubber on the spot to gently scrub the area.
Step 3: Let the cap soak in the detergent solution for an hour. Take a look at the cap to see if the stains have been removed.
Step 4: Rinse all the detergent with warm, clean water. Then follow steps four and five above to reshape and dry the hat.
Please note: vintage baseball hats often have a soft brim, which may degrade when fully submerged in water, only spot clean to preserve the material. Always read the label before cleaning the hat.