One of the classiest hats you can wear is a fedora. They look slick while still providing an element of functionality. Fedoras provide protection from the elements, while still elevating your style with minimal effort.
That being said, if you're planning to pair a fedora with a suit, there's some thought that should go into your overall wardrobe to ensure you're creating a cohesive look. Unlike a top hat, modern fedoras weren't necessarily made to pair with suits, so you've got to keep your eyes out for the right hat. Here are a few tips that will help you wear your fedora with a suit.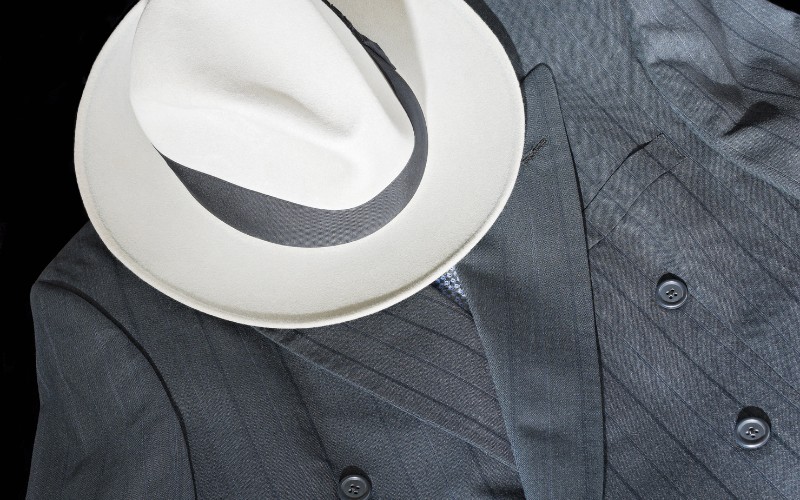 Match the color of your fedora with the color of your suit exactly 
If you're not a fashionista, but want to pull off the fedora + suit combo, it might be best to simply match the color of the fedora with the color of the suit exactly. This takes a lot of stress and guess-work out making the decision. 
If you're not purchasing your suit and fedora from the same vendor, make sure you bring your suit coat along to ensure the colors are exact. You can order a fedora online, just make sure you read customer reviews to get a sense of if the color on the screen matches what you get in person. Whether you're headed to an important business meeting or attending a wedding, you're sure to get compliments on how put-together you look if you match the colors of both outfit components.
Intentionally mix-match the colors to make a statement
Feeling a bit bolder? No problem. You can intentionally mix and match colors as long as you do it with an eye towards detail. If your suit is in an earth tone, pick a fedora that's part of a similar palette. Muted or bright—as long as you're working within the same color palette, you really can't go wrong. 
As a side note, if your fedora doesn't match the color of the suit itself, it helps to bring that color in with a different element. For example, if you're wearing a gray suit with brown fedora, consider wearing a brown tie to match the fedora. This will make your look cohesive with an element of flair.
Consider what material your suit is made of and then pick your fedora 
Some materials just don't go together. For example, you probably wouldn't wear a straw fedora with a velvet suit. You could, but it would probably look off. Consider what materials pair well together. For example, a linen suit for a beach wedding would go perfectly with a nicer straw fedora.
If your suit is made of wool, you'll probably want to pair it with a wool fedora for both style and warmth. A cashmere suit could pair beautifully with a velvet fedora, because the smoothness of the fabric styles could be very complimentary. If you have the chance to try on fedoras with suits, keep an eye on how the suit material and fedora material play together. 
Put a feather in your hat
If you're feeling really fancy in your suit and fedora, you can literally put a feather in your hat. Fedoras often have small feathers incorporated into the hat band. This can add a pop of color and will give you a timeless, classic look. Consider coordinating your feather with another part of your suit, such as your bow-tie or a pocket square.
A fedora is already a classy hat, but when you wear one with a suit, you really take things up a notch. When you're interested in taking your outfit to the next level, consider using the tips above to perfectly pair your fedora with your suit. From mixing colors to make a bold statement to matching color or texture, there are plenty of ways to make your outfit stand out.