As the temperature drops, one of the best ways you can stay "in style" is by putting thought into your outfits from head to toe. In order to create visual interest, accessorizing your layered style is always the best way to go. Jeans are a wardrobe staple, because you can wear them in just about any weather. Similarly, fedoras are versatile, because you can wear them all year round, depending on the type of fedora you own. Here are four tips on how you can wear jeans with a fedora, no matter if it's Summer, Winter, Spring, or Fall.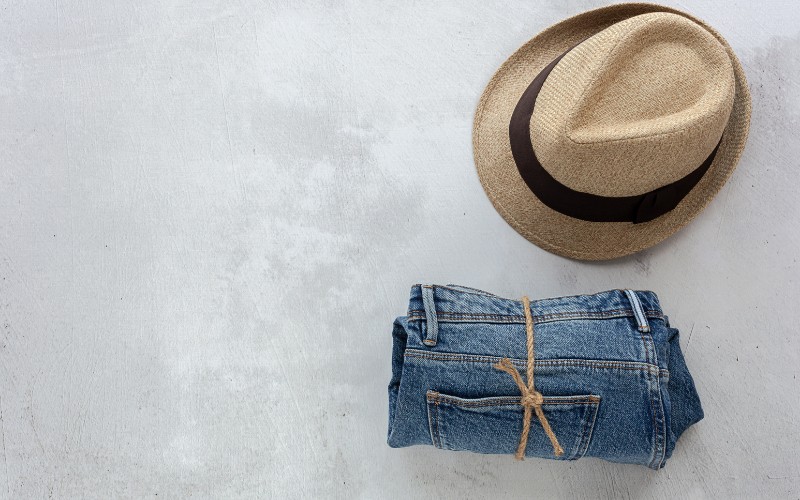 1. Take yourself on a shopping spree to beat the cold weather. 
Regular denim might be chilly if you're living in an area where it gets below freezing. A spring denim will be too flimsy to beat the frost. You'll need fleece or flannel lined jeans to stay comfortable while spending time outside. Flannel lined jeans don't mean you get to slack on fashion. On the contrary! To keep your head warm while you're hitting the pubs with friends, you'll want to match your weather resistant jeans with a wool fedora. A wool fedora will keep heat trapped next to your head. This will ensure that you feel much warmer than if you tried to step outside sans a cap. As a plus, a wool fedora will also keep your head dry if it starts to snow or sleet, because wool is water resistant. 
2. Showcase your curated colors. 
If you have a fedora that's a fun color, like maroon or mustard, and you find the perfect shoes that match that color to a tee, your jeans can actually help you showcase this smart outfit choice. If your jeans are long enough that they're covering up part of your shoes, simply roll them to make a cuff. According to Cosmopolitan, whether you need a single or double cuff depends on your preference and the length of your jeans. The double cuff is probably the cleanest look, but a single cuff can be fun if you're feeling kind of hip.
3. Consider your silhouette when choosing jeans to match your fedora. 
Fedora brims come in a variety of sizes. The width of the brim can help inform your other outfit choices. If you're hoping to wear a wide legged jean, like boyfriend jeans, you may want to avoid a wide brim if you're hoping for a slimming effect. A wide brim and wide pant legs will draw the eye in a vertical line. If you're wearing a wide brim hat, embrace your curves by wearing more form fitting jeans.
4. Match the wash of your jeans with the shade of your hat. 
You can wear jeans year-round, but usually during the cooler months, you'll lean towards a darker wash and in the warmer months, you'll want a lighter wash. Try coordinating the wash of your jeans with the shade of your fedora. Lighter washes will reflect the brightness of Spring fedora colors, like white and pink, whereas darker washes will compliment the grayscale colors typically associated with winter fedoras. 
Jeans and fedoras are great fashion partners. Need a little inspiration for how to put these tips to good use? Look no further than Bruno Mars and Beyonce for the epitome of fedora fashion.
Check out this article for tips on choosing the color of your fedora.