As lovely as hats can be as accessories, it can also be a headache to get them to stay properly on your head. Walking around with the fear that your hat might fly off into the distance or hit your friend in the face as you greet them isn't pleasant. Well, good news! There are quick and easy ways for you to get rid of that fear once and for all.
Let's take a look into some of the best ways to keep a hat from falling off of your head.
Vintage hairpins
Accessories that keep your hat from falling off don't have to all be hidden and discrete. Embrace the opportunity for an extra flair with vintage hairpins, made back in the day to ensure stability and security for women's hats.
While these beautiful and delicate pins might not be available at your nearest drugstore, a quick search on Google or sites like Etsy may lead you to some great vendors and one-of-a-kind pins.
In a variety of styles, these pins can work great with other vintage clothing or modern pieces; it's all about your personal preference!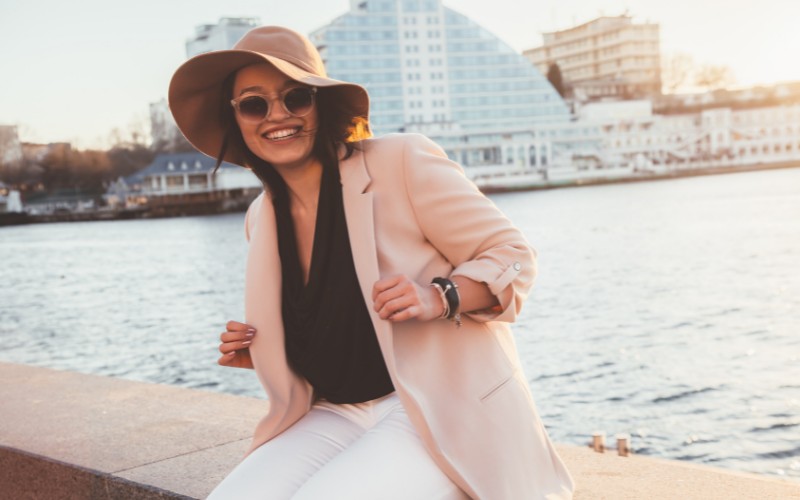 Bobby pins
Bobby pins as a means of attaching headwear and accessories is a given, but many people don't exactly know how to go about it in the most effective way, especially when it comes to hard-to-wear hats. Here's the trick: take the bobby pins and attach them directly into the sweatband inside of the hat.
Point them down towards your head, allowing them to grab onto a good amount of hair as you lower the hat onto you. Simple and easy, just like that!
Hair elastic
Attached hair elastics can be commonly found in vintage women's styles, particularly tilted and unusually shaped hats. If your hat doesn't already possess this feature, it is totally possible for you to add it yourself! After all, it is exactly what it sounds like it is.
Make sure you first figure out the appropriate length and strength of the elastic for its most effective hold. Then, simply hand stitch it at the sides and place it over your head, hiding it under your hair.
Pick the right size!
This tip might not be the most innovative piece of advice you'll come across, but it is certainly one of the most fundamental.
For most men's styles, accessories and hair-based products don't always do the trick. When it comes to preventing classic men's hats falling off of your head, the best thing to do is to prioritise correct sizing from the beginning.
When ordering online, don't skip over the sizing chart and keep your measuring tape nearby! Follow all of the proper steps to get a good measurement and ensure a comfortable yet snug, ideal fit. It really can be as simple as that!
Bottom line: don't let the fear of knocking someone out with your hat keep you from wearing it whenever you want to! If there is a will, there is definitely a way.