Flat caps have made a big comeback in recent years, especially thanks to celebrity culture and the hit Peeky Blinders series. Thus, more and more men are choosing to wear them as part of their everyday style. 
They're a great way to add a touch of class to any outfit, look stylish and smart, and can be worn for any occasion. Whether you're new to wearing flat caps or you're looking for some tips on how to wear them in the best way possible, this guide is for you!
Let's jump in.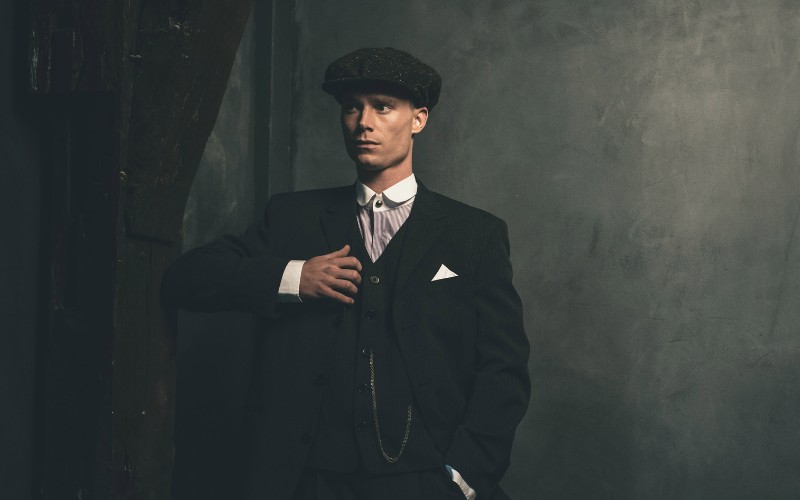 Get Your Flat Cap Fitted Right
The most important thing when choosing the right flat cap is to ensure it fits well. The last thing you want is your flat cap to be too big or too small – it should fit snugly on your head without being uncomfortable.
You can use a tape measure to get an accurate measurement of your head circumference and then use that measurement to find a flat cap that's the right size.
A well-fitting flat cap may be subtle, but it greatly affects an overall look.
Just take a look at Peeky Blinders characters. Lead characters like Tom Shelby have well-fitting caps which command respect and look amazing. He has a look where you want to be him and looks so cool. 
This is how effective a flat cap can be.
Choosing Your Style
Once you've found a few flat caps that you like the look of and are the right size, it's time to start thinking about style. 
The great thing about flat caps is that they can be worn with pretty much any outfit – whether you're dressing up for a special occasion or keeping it casual for everyday wear.
You'll probably want to switch things up by having a flat cap for formal wear and a casual one for more informal occasions.
Material-wise, traditional materials like wool, cotton, and tweed will be your go-tos. These are styles that have stood the test of time and, in our opinion, completely outshine any modern alternatives.
Consider avoiding modern patchwork or patterned caps since they can quickly fall out of style. Plain yet elegant styles are timeless.
If you're struggling to decide on a style, look at some of your favorite fashion bloggers or celebrities for inspiration. Chances are they've been rocking the flat cap look and can give you some great ideas!
You can also check out these popular styles on Amazon.
Top Tips for Wearing a Flat Cap
Once you've found the perfect flat cap, it's time to start thinking about how to wear it. Here are some top tips:
If you're wearing a suit, ensure that your flat cap coordinates well with the rest of your outfit. A good rule of thumb is to match the color of your cap to the color of your suit.
If you wear jeans and a t-shirt, you can pair your flat cap with anything. Just make sure that the colors go well together.
If you want to add a bit of personality to your outfit or make a statement, choose a flat cap with a fun pattern or design. Just be careful because trends change, and the cap may become irrelevant quickly. These could, however, be worn for a one-off event.
Flat caps can be worn in any season, but if you're wearing one in the winter, pair it with a scarf and gloves for a stylish and warm look.