As the temperature drops, you need to layer up in order to keep warm. If you feel like a shapeless, fashionless blob during the winter, you're not alone. It's hard to keep an air of style while you're, more importantly, protecting yourself from the elements.
Thankfully, you don't need to sacrifice style for comfort. It just requires a little more effort to make a cohesive look with your cold weather wear. Here are a few tips that will help you match a hat with gloves, so you can look winter chic even during the coldest days.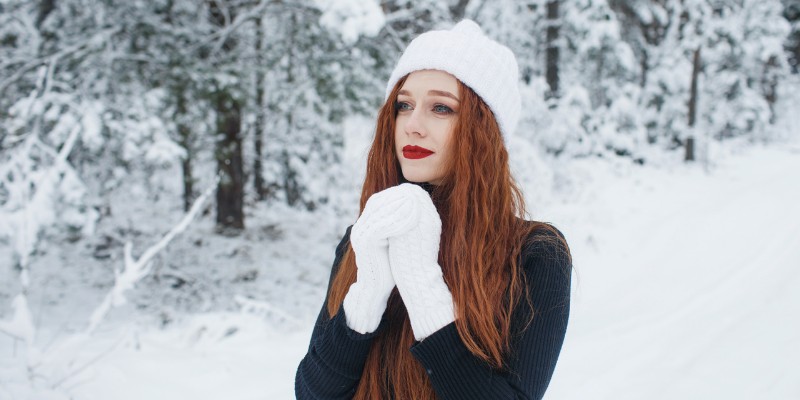 1. Buy your hat and gloves in complementary colors.
Color should be one of your first considerations when matching a hat with gloves. Go back to your middle school art class days and think about complementary colors.
Red and green are complementary as well as orange and blue. Yellow and purple also go great together. If you really enjoy infusing color in your wardrobe, taking a look at a color wheel to find complementary colors can make your hat and glove combination pop, while still looking purposeful.
Winter is often a time where people wear dark neutrals. Wearing two neutrals or two different shades of the same neutral can look really slick. Consider a black hat with gray gloves or a beige hat with cream gloves. Neutrals provide a more subdued color option if you feel like colors should hibernate a bit during the winter.
Check out these popular touch screen gloves (Amazon) in neutral colors.
2. Mix or match your hat and glove's materials.
Once you have an idea of what you're looking for in terms of color, it's important to make sure that the material of your glove and hat are either matched or play well together. For example, if you're wearing a wool beret or fedora, you might want to match it with wool gloves.
Wool is a sturdier material that will help to keep you warm. An example of material that wouldn't go well together is wool and silk. The textures will look strange, since silk is often considered a more summery material.
Leather or an imitation leather will go well with other winter materials like wool, fleece, corduroy, and tweed. It's okay to mix and match materials as long as they're often worn during the winter.
3. Consider patterns when curating your look.
Patterns are a fun way to add intrigue and texture to any outfit. Houndstooth is making a comeback. Celebrities like Beyonce are sporting houndstooth at events with the print featured by Ivy Park and Adidas, Dolce & Gabbana, and Alice + Olivia including the print in their collections. Unless you're a celebrity making a big statement, you'll probably want to use such a bold pattern sparingly.
If you purchase a houndstooth hat, buy solid color gloves to pair with your outfit. Although clashing patterns can be excellent and bohemian during the summer, it's best to go for more of a subdued approach during the winter.
4. What overall style are you shooting for?
When you're matching your hat and gloves, it's important to understand what style you're aiming to create. If your overall look is relaxed a winter beanie with fleece gloves will be perfect.
You can wear sweatpants or yoga pants and still look put together with a beanie and fleece gloves. On the other hand, if you have to contend with cold weather while going to a fancier event, you'll need to look dressed up even in your outdoors wear. In that case, a cloche hat, as seen on Downton Abbey with leather gloves will help to keep you warm while looking upscale.