As Spring approaches, you're going to need to make sure you're ready for those April showers with a durable umbrella. There are a few functional things that you absolutely need from an umbrella. You need an umbrella to be water resistant, refrain from turning inside out in the wind, be portable if you're a commuter, and give you as much body coverage as possible in the case of a torrential downpour. In other words, your umbrella needs to be reliable.
Even though you don't wear an umbrella, umbrellas are considered accessories. A nice umbrella can elevate your rainy day look. Here's what you need to know about popular umbrella brands that you'll want to carry with you every day.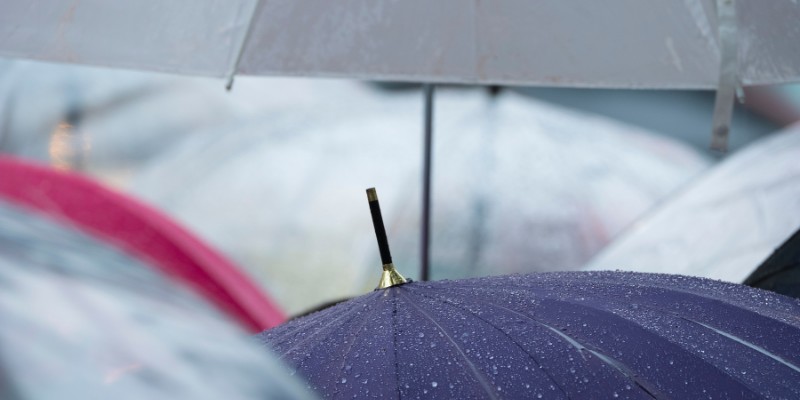 GustBuster
If you're so tired of buying umbrellas at the drug store every time a gust of wind blows your umbrella inside out, rendering it useless, a GustBuster umbrella could be the perfect pick for you. The GustBuster brand uses wind-release technology, so that these umbrellas have your back in over 55 MPH winds. GustBuster umbrellas have won a lot of design awards proving that their umbrellas aren't just durable, they're smartly created. Professional golfers love them, because they're light and sturdy, and will keep you dry even in Pebble Beach's worst weather.
Check out Gustbuster umbrellas on Amazon
Coach
If you're a city dweller, you've almost certainly walked by someone with a signature Coach umbrella. The design is distinct with the coach logo printed on it and the build is compact, which is essential for public transportation commuters. Admittedly, you may not want to bring out your Coach umbrella in high winds, but for an everyday drizzle, a Coach umbrella will keep you dry and comfortable. You'll also look like a fashionable city slicker sporting a name brand umbrella.
Check out the Signature Coach umbrella on Amazon
Totes
Totes specializes in making products for inclimate weather. From rain jackets to rainboots they're definitely a reliable brand. Totes is known for their Bubble Umbrella, which is a clear, domed umbrella that you can easily see through while you walk, that covers more of your body from the rain than other umbrellas, and will never flip inside out. Although this specific kind of umbrella can't be easily stored in a small purse, the hooked handle makes it easy to carry around.
They also offer compact, stick, golf, oversized, kids, and InBrella umbrellas. The InBrella folds all of the wet parts of your umbrella in, so there's less dripping and you won't get your clothes wet while carrying it around!
Totes clear bubble umbrella on Amazon
London Fog
Just the name of the company evokes the image of a cozy, rainy day. Although known for their coats, London Fog also makes popular umbrellas that go perfectly with their rain resistant outerwear. The company was founded in 1923 by Israel Meyers and has flourished ever since. For a well designed umbrella that features "traditional wooden handles and classic Scottish tartan plaids," check out their Heritage line of umbrellas.
If you're always on-the-go and need to make sure the rain doesn't put a dampener on your day, London Fog's Modern line of umbrellas are small and automatic. Their final collection of umbrellas are Windguard umbrellas, and they mean business. They're very wind resistant with a dual canopy design. You really can't go wrong with a London Fog umbrella. Think about what you want as far as function, design, and style to pick which line of umbrella is best for you.
Check out any of these popular umbrella brands to find your perfect fit. You're sure to find an umbrella that will last you quite a while and enhance your Spring fashion.