Weddings are prime time to step out and show off your most fashionable self. Whether you're the mother-of-the-bride or a plus one, a sure-fire way to shine is to top off your wedding day ensemble with a hat. In some places, like the United Kingdom, hats are a much more common accessory than in the United States. However, no matter where you are, a wedding hat can make a real statement. Here are five tips for wearing a hat to a wedding.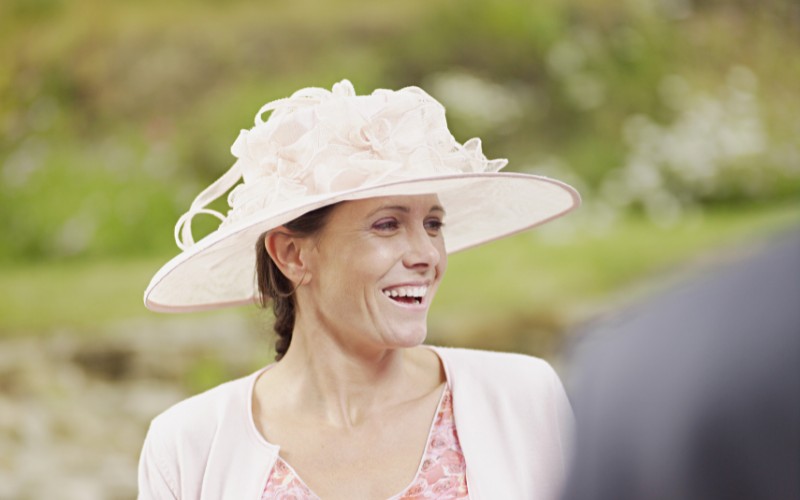 Match your hat to the style of the wedding.
There are so many different types of weddings that you might need to dress for. Are you headed to a country themed wedding in the summer or a sophisticated Anglican church ceremony? What time of year is it? Will you need some shade outside at a Tuscan garden party reception or warmth for a snowy winter wedding?
If you're outdoors for the reception, consider wearing a summery brimmed hat to keep you safely out of the sun. If you're attending a winter wedding and still want to look fancy while staying comfortable in the snowy temperatures, a Cossak style hat might be just what you need. Are the soon-to-be-married couple obsessed with Royal weddings? Take a look at the guest photos from William and Kate's royal wedding. You're sure to find inspiration from those colorful, sculptural hats.
Coordinate with the color of your dress or suit.
Even if you find the most perfect hat for the event, it's important that it goes cohesively with the rest of the style you're planning. If you're wearing a bold patterned dress or suit, you may want to avoid purchasing a hat with a clashing texture or pattern. Even if you want to make a statement, you should ensure that you're not so much of a standout that it takes attention away from the happy couple. Coordinating the color of your outfit with the color of your hat can help you accomplish this.
Plan your hair style ahead of time.
Wedding guest hair styling is a big decision, so you don't want to get to the big day and realize your hat isn't going to fit over a high bun or ponytail! To avoid a situation where you either have to change your hair or ditch your hat day-of, carefully make your hair and hat decision in tandem. If you're getting your hair professionally done, bring the hat to show your stylist, so they can work within the parameters of your hat. Your stylist may even be able to help you secure that hat, so the wind can't ruin this big day.
Make your accessory decisions based on the wedding colors.
If you're going to be in any of the wedding photos with the happy couple, it's not a bad idea to check ahead for the wedding colors before purchasing a hat. If most of the guests are in pastels, you don't want to be the only person in jewel tones. Asking for the wedding colors ahead of time will help you fit the married couple's aesthetic and ensure you won't be photoshopped out of the final wedding photo edits.