Easter is just around the corner, and what's more quintessentially Easter than the Easter bonnet? Whether you need a hat to wear to church, you're going to an Easter parade, or you're celebrating non-secularly with friends and family, the Easter bonnet is certainly an eye-catching fashion choice.
The most fun aspect of the Easter bonnet is that these hats are often homemade. Don't worry, you don't have to craft an entire functional hat! Typically, the bonnet wearer simply embellishes upon an existing hat to make it Easter themed. If you're feeling a little crafty this Spring, here are tips for creating the perfect Easter bonnet!
Use flowers to fill your hat.
One of the telltale signs that spring has sprung is when flowers start to pop up out of the ground. Spring is considered a time of rebirth and new beginnings. What a better way to symbolize that than with flowers on your Easter bonnet. Large craft stores will have an abundance of fake flowers to choose from. Since their stems are wire, they should be very easy to secure to a bonnet.
You can always use tissue paper to make stylized flowers as well. In the case that you have a garden brimming with flowers, you can always use real flowers instead! Just make sure you keep them hydrated and refrigerated, so they don't wilt before the big day.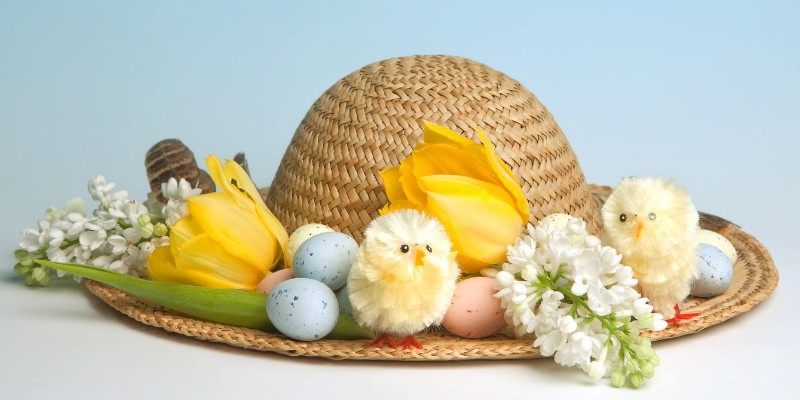 Secure decorations with hot glue.
The best way to secure any embellishments to your Easter bonnet is with hot glue and a hot glue gun. Using hot glue has a lot of benefits. For example, if you begin to sweat while wearing your bonnet, hot glue will be sweat resistant, so none of your decorations will start to slide off.
Hot glue also dries a lot faster than other types of glue, which means you'll be able to place everything exactly where you want it in a timely manner.
Incorporate vintage decorations.
Small, vintage Easter decorations are a great way to show your Easter spirit. While being fun and whimsical, you can also probably get them for cheap if you find them at a thrift store or other second hand shop. Ask your parents or grandparents if there are any decorations they wouldn't mind parting with, so you can have a sentimental part of your past incorporated into your Easter bonnet.
Bunnies and chicks and eggs, oh my!
Don't forget about the iconic cast of Easter characters. You can either use figurines of these cute little animals or you can make the whole hat into one of the animals! If you're going for a more religious Easter bonnet, consider adhering little lambs to your hat's brim.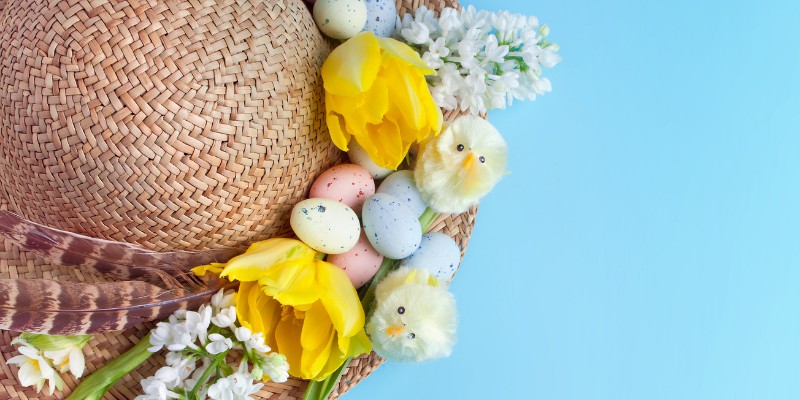 Don't wear your hat outside in inclimate weather.
Sometimes Spring can be rainy. Depending on what kind of decorations you've used, you may want to avoid wearing your Easter bonnet out in rainy weather. Tissue paper would essentially melt if it gets damp. Use your best judgment and make sure to look up the weather forecast before heading out to the Easter parade.
Don't wait until the last minute.
For the best Easter bonnet results, you should start gathering your supplies at least two weeks before Easter. It always gets hectic before any holiday, so give yourself enough time to finish this project, so it's the Easter bonnet of your dreams.