Just because it's dreary outside doesn't mean your fashion can't be on point. If rainy days are your least favorite, reframe bad weather as an opportunity to break out more accessories that don't always get their day in the sun. Umbrellas are a must-have if you live somewhere that frequently experiences inclimate weather.
The kind of climates that often experience rain come with other tricky factors, like hot sun and cold wind. In these cases, it's a great idea to pair that umbrella with a hat. Don't worry, you won't look like Mary Poppins if you follow these four tips for matching an umbrella with a hat.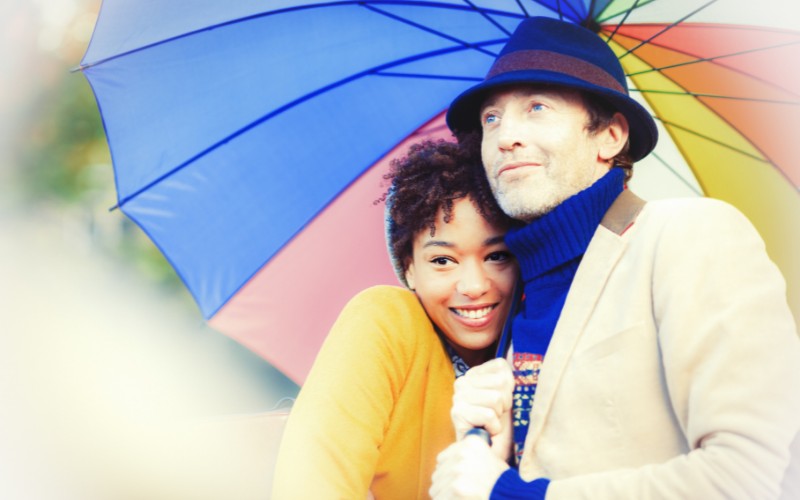 1. Look ahead to see what kind of rainy day you'll experience.
If you live in a location where you experience all of the seasons, you know that in Spring the weather can be chilly one hour and warm and sunny the next. In order to appropriately match your hat with your umbrella, make sure you look ahead to the forecast. Weather forecasts are generally pretty accurate. Taking two minutes to check your weather app or watch your local weatherman will help you decide whether you're going to need a matching beanie for colder temperatures or a ball cap to keep the sun out of your eyes once the rain clears up.
2. Wear a hat made of water resistant material.
As an homage to the phrase, "raining buckets", consider pairing your umbrella with a water-resistant bucket hat. Bucket hats are back in a big way thanks to celebrities like Olivia Rodrigo and Dua Lipa. You can go a step further by matching the nylon or other water proof material with your umbrella. It's not just fashionable, but functional as well. As you transition from indoors to outdoors, your water-resistant hat will be able to catch stray rain drops as you put down your umbrella.
3.Consider the style of umbrella you're sporting.
Not all umbrellas are made for rain protection. If what you're sporting is more of a parasol, that dramatically changes the kind of hat you'll want to wear. Parasols are a great layer of protection from the sun. That's why in certain seasons in places like China, you'll see parasols out in droves. Take your sun protection one step further by wearing a wide brimmed sun hat or even a fashionable sun visor. A fancy umbrella calls for a fancy hat. You can even have fun matching hat bands with the color of your parasol.
4. Commit to a color scheme.
Go big or go home, right? Dreary days don't have to dictate a bland outfit choice. Consider wearing a wool fedora that's the same color as your umbrella. Wool fedoras are great for inclimate weather, because they're water resistant. While you're at it, you can buy matching boots and a rain jacket in the same color scheme. That way, even if you didn't expect rain the night before when you picked out your outfit, you'll look very put together and ready to take on the day, rain or shine.