With a voice as smooth as silk and lyrics that continue to inspire, Frank Sinatra captivated his audiences with ease—but his talents went beyond singing. Fashion was yet another one of his many strengths, and today, Sinatra lives on as a legendary men's fashion icon. His style of dress reflected his charisma, with expertly tailored ensembles and, of course, his iconic tilted hat.
Frank Sinatra wore a trilby, a narrow-brimmed hat similar to a fedora. He had several trilbys, all in perfect condition—never soiled or stained. Worn at a sharp angle just over the right eye, his trilby accentuated his features and gave him a sophisticated air when paired with custom-fit suits.
The hat that Sinatra wore (and how he wore it) complemented his sharp, masculine style of dress. Read on to learn more about Frank Sinatra's signature hat.
Sinatra's Famous Hat: The Trilby
While many people believe Sinatra wore a fedora, his legendary headwear was actually a trilby. This mistake is easy to make, as the trilby is quite similar to the fedora and not as well-known by fashion novices. Both the fedora and trilby share similar shapes, but the trilby has a narrower brim, an upturned back, and a shorter crown.
Once known as the "rich man's favored hat," trilbys became popular at the beginning of the 20th century. Around this time, cars became available to the mainstream, and their lower clearance made it challenging to wear hats with long crowns. Shorter hats, namely the trilby, became the norm.
By the 1940s and 50s, trilbys again saw a rise in popularity, in part due to Frank Sinatra's fashionable influence. Today, the trilby maintains its reputation as a timeless, classy men's hat. Discover more intriguing facts about trilby hats here.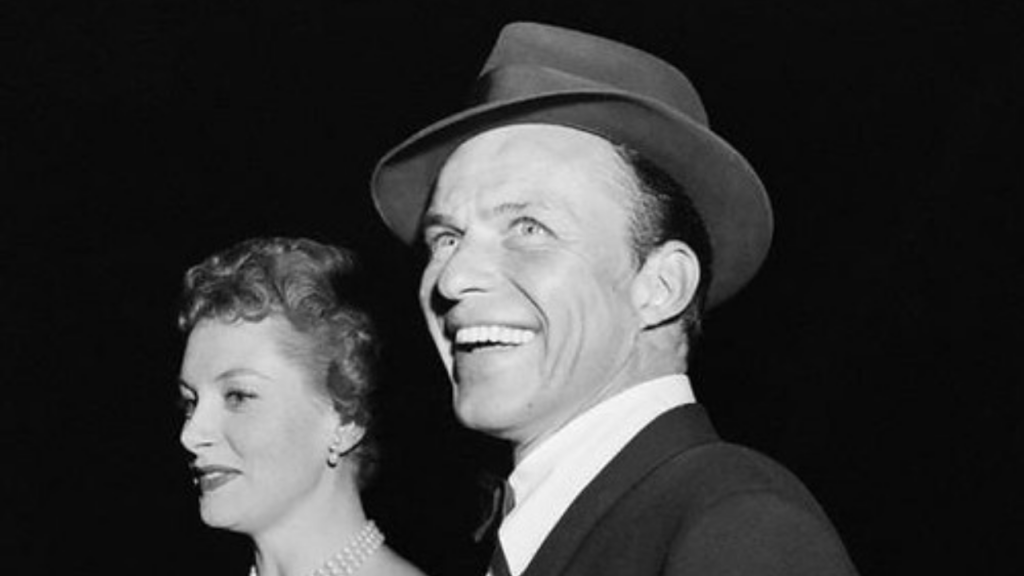 How Frank Sinatra Wore His Trilby
Frank Sinatra had various trilby hats, but his most recognized trilby was a silk-banded gray hat, worn on the cover of "Come Fly With Me." No matter what color trilby Sinatra wore, he always wore it with polish and attitude.
Hats can transform an outfit in an instant. They can also, as surprising as it sounds, accentuate the body. A man of average height and a slight build, Sinatra's physique benefited from the narrow brim of the trilby. It made his narrow shoulders appear broader, giving him a sharper, more masculine appearance.
When Sinatra donned his trilby, it was always pristine, never blemished or dirty. He wore it slanted down in the front and turned up slightly in the back. He cocked the hat at a severe angle to finish off his style, just over the right eye. This signature look was sophisticated and elegant, especially when he paired it with his custom-tailored attire. This classic trilby on Amazon is a great option for those looking for the Sinatra style without breaking the bank.
How Frank Sinatra Styled His Trilby
As one of the most well-dressed men in the history of Hollywood, Frank Sinatra paired his trilby with only the best of the best.
Sinatra loved suits, and tuxedos were a favorite of his. He paired his made-to-measure, wide-lapel, black suits with immaculate white bowties and expertly shined shoes. His shirt cuffs always extended just a half-inch from his jacket sleeve, and cufflinks were an essential part of the outfit.
Occasionally, he would add a pop of orange—his favorite color—using a neatly folded pocket square. Atop his dark brown hair would sit his sharply angled hat to finish the look.
Even when he dressed casually, Sinatra was still debonair. He donned crisp, starched button-ups, precisely tailored sports coats, high-waisted custom trousers, and his black shoes—he refused to wear any other color on his feet—always gleamed. And on his head—you guessed it—his flawless trilby, cocked to the right.
Sinatra set many fashion rules for himself. He believed that men should only wear dark colors in the evening—navy, blue, gray—but only black after dark. When it came to shoes, Sinatra felt that a dull shoe could ruin a skillfully put-together outfit, so shined shoes were an absolute must. With every style rule that he set, he flawlessly incorporated his hat into them all.
No matter what Sinatra wore, his expertly placed trilby was the perfect extension of his ensemble and undeniably one of his trademark pieces. The trilby took his crisp outfits to the next level every time. No matter where he was or what he was wearing, he always looked expertly styled.
Conclusion
Frank Sinatra caught the eyes of the world with his opulent, unmatched style and kept their attention with his charm. His style was nothing short of legendary, and his trilby so perfect that it appeared to be made for him. It enhanced his features and gave off a strong air of confidence.
Sinatra wore his hat with attitude, confidence, and assertiveness, much like how he lived his life. While the trilby didn't define Sinatra, his character was accentuated by it, a mark of timeless style and confidence.