Horse races have long been known not only for the races themselves, but also for the extravagant headwear that is often required at the events. While elegant and adorned hats are often known as quintessentially British accessories, the pageantry associated with Derby has inspired this tradition in less likely places around the world.
The smart dress and hat traditions at horse races have become staple components of the event. Even for those who know nothing about the sport, the elaborate hats are often a topic of common knowledge amongst the public. The specificity of these dress codes, however, is less likely to be fully realized when merely looking at pictures of royals and celebrities at the events. Let's delve into the world of horse race hats and find out what is really required of its guests.
The Royal Ascot
Famously labeled as Queen Elizabeth's 'favorite event of the year,' the Royal Ascot often counts on the presence of numerous royals, as well as other elite appearances. It's no wonder photographers are always standing by for the perfect shot of these intricate, stylish accessories. 
Also unsurprisingly, this event has an extremely strict dress code, and it's no different when it comes to headwear. Tradition is highly regarded at all times during the race, and guests seem eager to participate in these conventions. Men are always required to wear gray or black top hats, with a few exceptions such as when dining at a restaurant, for example. Women's hats must have a minimum base of 10 cm, meaning fascinators – quite popular choices for other horse races in the United Kingdom – are not an option.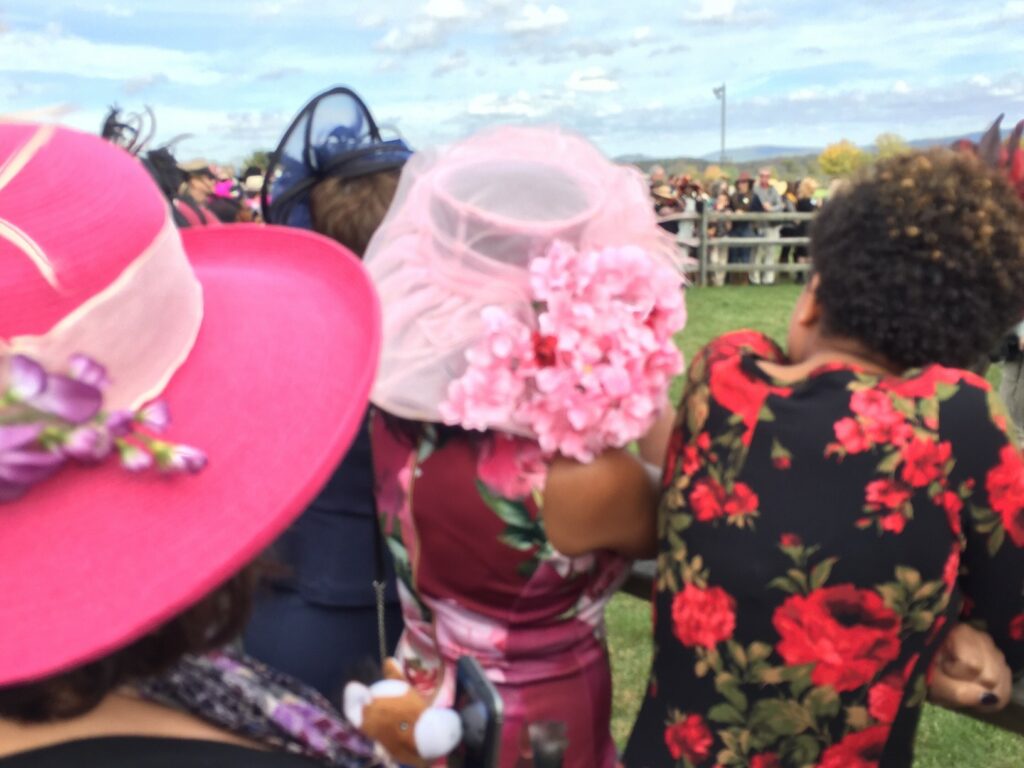 Epsom Derby
The Epsom Derby, also known as The Derby Stakes, is also amongst the most popular horse races in England, welcoming an average of 150,000 guests every year.
A general smart fashion dress code is to be followed by men, women, and children, though specific requirements do depend on the stand which you find yourself in. Once again, top hats play an important role in this event. For male guests in the Queen's Stand Enclosure, a top hat is a requirement. For women, a hat or "substantial" fascinator is to be worn. Read this article to learn more about fascinator hats.
Hats and fascinators, then, though not always required, are highly encouraged to be worn by women. Although requirements seem to be clearly outlined for every event, participating in the stylish parade of hats does not seem to be a chore for guests. Every year, in fact, Epsom Derby holds its very own Style Awards, highlighting and granting prizes to the top 3 most stylish participants (or pairs) to attend. 
The wide emphasis on fancy hats and overall styles seem to be an effective way to spotlight the importance of partaking in this tradition.
The Kentucky Derby 
Hats may not be a particularly intriguing sight in the British horse race tracks and garden parties, but they are not quite the normal thing to find in Kentucky, USA – with the exception of the Kentucky Derby, of course.
As it turns out, this tradition did stem from exactly where one would expect: British and French racing traditions. More specifically, from the Longchamp racecourse in Paris and Epsom Downs in Surrey, England.
The Kentucky Derby was founded in 1975. In the years prior, the European travels of Colonel Meriwether Lewis Clark Jr. and his wife, Mary, influenced what would become an indispensable tradition in the event for years to come.
The campaign to first implement this tradition heavily counted on Mary, who personally dressed up in a carriage, hoping to encourage others to do the same during the racing event – and it worked. Today, huge, elaborate hats can be found at the Kentucky Derby. Check out this popular race day hat on Amazon.
While the relationship of British races and hats seem to lean heavily towards tradition, the American event has a far more casual, laid-back spin on the accessories.