There's nothing worse than feeling like a fashionista and having your ego quickly deflate after you've come inside and caught your reflection only to find out that you've got major hat hair!
Hat's can be a catch 22 if you're not careful because you might not want to wear your hat inside, but taking it off could mean mega frizz. Thankfully, there are a couple of steps you can take to ensure you're having a great hair day even after removing your hat. Here's the perfect solution for hat hair.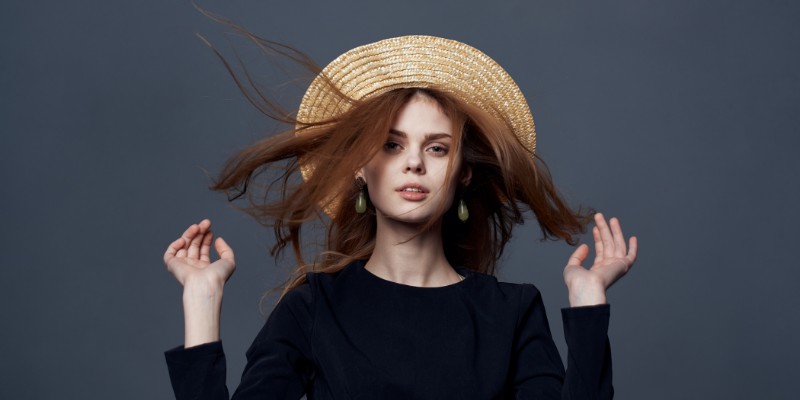 Set yourself up for success using defrizzing products. 
The beauty industry understands that hat hair is a problem, so there are a lot of products that can help you prevent it before it even starts. When you jump out of the shower, consider using a serum, like Hair Serum #DM027 by David Mallett (Amazon), before it dries.
A product like this will keep your hair smoother once it dries hat or no hat. If you're looking for a more cost-effective solution, you may also want to try a leave-in conditioner, like Neutrogena Triple Moisture Silk Touch Leave-in Cream. It's only seven dollars and was featured on Vogue's website as a top staff pick for taming frizz. 
Reduce the frizz before it starts. 
Although it's tempting to put your beanie on before your hair fully dries from your shower—especially if you're running a little late—think twice! Damp hair can cause extra frizz, and to make matters worse, when your hair dries it'll get stuck with frizz and be nearly impossible to tame. By waiting just a few more minutes or breaking out the hair drier, you can reduce the risk of unmanageable hair.
Wear a hairstyle that will, hopefully, cause less dramatic hat hair. 
Some hairstyles are going to be easier to tame than others. Consider wearing braids that you can fortify with hairspray and gel to keep them in place once you remove your hat. The more product you use in your hair to achieve a hairstyle, the more likely you'll be able to prevent or fix hat hair.
Come prepared with backup. 
Even if you do everything right—you wait for your hair to dry, you use anti-frizz products, and you fortify your hairdo—you might still be having a bad hair day after you remove your hat.
As long as you come prepared with backup, a little hat hair won't be able to ruin your day. Pack an anti-humidity hairspray or frizz-smoothing sheets from Nunzio Saviano (Amazon) to help you re-finesse your hair after you've taken off your hat. It won't take more than a few minutes in the powder room to make your hair look as good as new. Don't forget to pack a comb or brush to address particularly stubborn flyaway hairs. 
Hat hair doesn't have to ruin your day if you plan ahead. Make sure your hair is hydrated and use products that'll help it stay in place. Now go out there, and rock your favorite hat.