When it comes to harsh winter weather, your ears and scalp can be some of the hardest hit areas of the body. Investing in a high-quality, warm beanie can help keep you comfortable and stylish at the same time.
Beanies remain a popular and practical fashion accessory. They add coziness to any winter outfit and come in various styles, colors, and textures.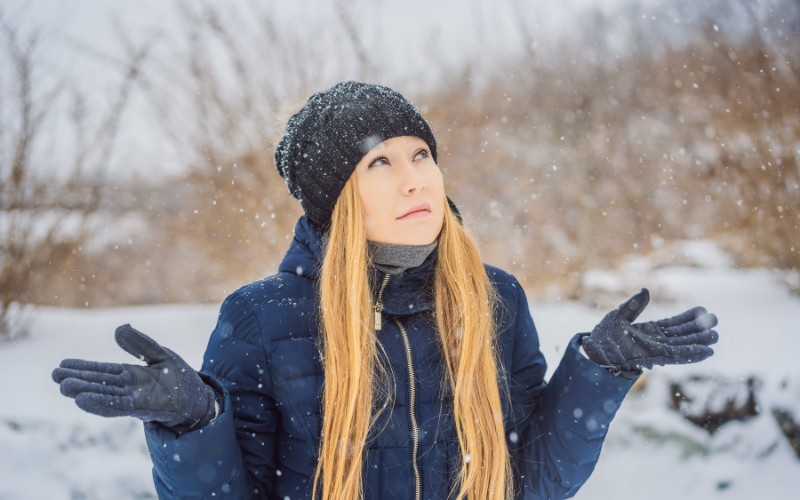 Below are the five warmest beanie types to elevate any cold-weather ensemble.
Fleece Beanies
Fleece beanies are thick enough to keep your head incredibly warm while also remaining soft and flexible so that you can move freely.
Fleece is a synthetic fabric designed to be incredibly insulating.
Despite being thick and cozy, they are also lightweight and, unlike some coarse wools, do not itch, making them comfortable to wear in cold environments.
Check out this popular fleece beanie on Amazon.
While incredibly warm, they are not very breathable, so they are not ideal if you are likely to sweat a lot. They are also not waterproof and will become waterlogged in the rain.
100% Wool Beanies
Wool beanies offer extreme warmth in even the most freezing temperatures. Wool keeps wearers warm and snug. It is a natural fiber, lightweight and breathable, making it a good choice for active people.
This beanie type is perfect for snowboarding, skiing, or other outdoor winter activities.
Wool has a high saturation point, meaning it can tolerate a relatively high amount of rain before becoming saturated. It offers good protection from moisture in the air while still providing warmth. That said, unless coated with oils is not waterproof, so not suitable for heavy rain.
Cashmere Wool Beanies
This luxurious material makes for some of the softest, coziest beanies. Although they tend to be more expensive, we argue they are worth the investment.
Cashmere offers a silky smooth texture that locks in heat at the same time while also being breathable. They are far less itchy than standard wool products.
Fishers Finery makes one of the most popular 100% cashmere beanies on Amazon.
Polyester
Beanies made from polyester are the perfect option for those in snowy, wet climates. Polyester is incredibly water resistant and durable, so you can rest assured knowing your beanie will last through many seasons.
While moisture-wicking and quickly dryable, this synthetic fiber is also less breathable than natural fibers like wool or cotton. It will also not be as soft as a cashmere or merino wool option.
It is typically the least costly, making it perfect for beanie-lovers on a budget, such as this Milwaukee 503B Cuffed Beanie on Amazon.
Knit Merino Wool Beanies
Merino knitted beanies are the perfect option for weather that isn't quite as harsh but requires added layers to stay comfortable.
This material is versatile because it can be doubled up to create a thicker style beanie or ribbed for an added stretch. Knit beanies also come as reversible, crocheted, and chunky.
This material offers the widest variety, making it incredibly popular for winter and fall weather. It provides many of the same benefits as cashmere.
Merino wool is very soft and, like cashmere, is far less itchy than coarser wool fibers.
Danish Endurance is one of the most reputable brands offering knit beanies in various colors (Amazon). All their hats are also tested with Olympic athletes.
Regardless of which one calls to you, these five types of beanies are sure to keep you feeling and looking good. Keeping your head and ears warm is essential for remaining comfortable in the chilly weather, and beanies are the perfect way to accomplish this in style.