From celebrities attempting to hide from the paparazzi to couples walking their dogs to actual baseball players, baseball caps are worn by everyone everywhere. You can find people from all walks of life donning these hats: young or old, rich or poor, Republican or Democrat, and everything in between.
So many people wear baseball caps because they're versatile, comfortable, and functional. The endless design possibilities of these hats mean you're bound to find a style that speaks to you. This makes it easy to find like-minded people even if you've never watched a single inning of baseball.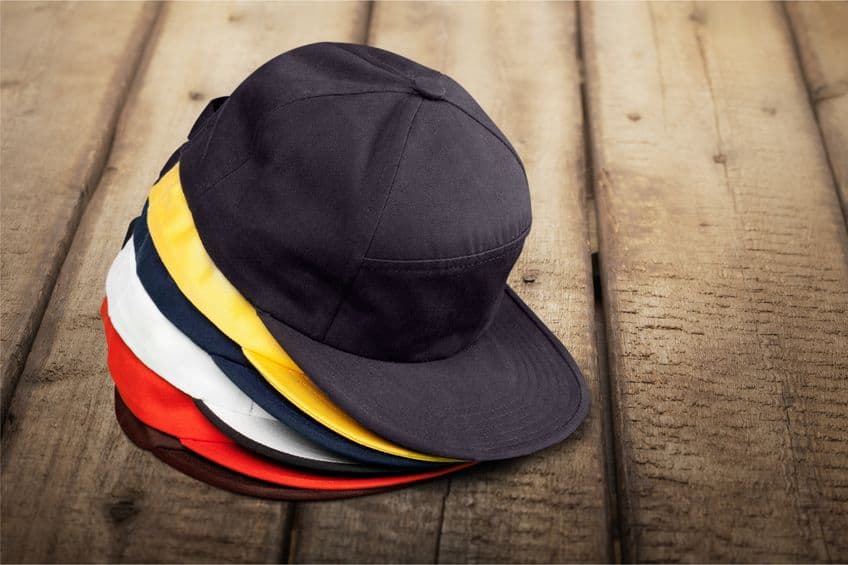 The Popularity of Baseball Caps Explained
There isn't just one reason baseball caps are so popular. There are several explanations for why these hats are a staple, from their customizability to their convenience.
There's Nothing More American Than Baseball
Baseball is a staple of American culture, so it's no surprise that the apparel has made its way into our everyday fashion. The accessory's popularity took off when the baseball cap (then known as the "59Fifty") became the official style of hat for major league baseball.
Now, baseball caps are just as American as the sport itself.
They Are Comfortable and Functional
The most practical factor in the popularity of baseball caps is their functionality. While they're a fashionable accessory, baseball caps are utilitarian as well. Visors do a great job of shielding your eyes from the sun on a bright day, making them perfect for outdoor work, sporting events, or just lounging on the beach.
Baseball caps are an easy add-on to any outfit too. Whether you woke up late or didn't feel like doing your hair, they're fast and convenient to grab before running out the door.
Plus, baseball caps are comfortable. Some are one size fits most, but many are easily adjustable, such as the snapback, to get your perfect fit.
This is ideal for windy days outside and all types of physical activity. Few things are worse than constantly worrying if your hat will fall off at any given moment, but with a well-fitting baseball cap, that worry disappears.
We can't forget that these hats are also lightweight. You can also find specific athletic variations, including the breathable, quick-dry TrailHeads Race Day Performance Running Hat on Amazon, complete with a reflexive trim for nighttime safety, or the TrailHeads Fleece Ponytail Hat featuring drop-down ear-warmers for optimal warmth and a curved visor to shield your face from the weather.
Custom Baseball Caps Let You Show Off What's Important to You
Why wear your heart on your sleeve when you can wear it on your hat? Baseball caps have become a staple merchandise item, but they aren't just for baseball lovers. No matter what you're a fan of, there's a good chance you can find a baseball cap to rep it.
With style ranges, including the iconic Nike swoosh or political slogans, to sports championship apparel, there's not much this hat can't do.
That's one of the advantages of these accessories is that you can easily show off who you are and what you're into.
It's even possible to get some made just for you. Maybe you want custom embroidered ones for your wedding party or to adorn them with your business's new logo. Whatever it is, it's yours.
They Help You Find Your Crowd
Wearing a baseball cap with a logo or slogan of something you love not only feels good internally but can connect you to others around you. Seeing someone wear the apparel of something you also love – whether it be a team, a place, a musician, or a brand – creates an immediate connection.
If you think about it, baseball caps can make us feel like we're part of something larger: a team. Whether that team is a group of people who love the same thing or a literal team, they bring people together.
Baseball caps can lend to great conversation topics with strangers. Who knows who you'll meet next time you wear your favorite hat!
They Can Be Dressed Up or Dressed Down
Baseball caps are appropriate attire, whether on the red carpet or just rolling out of bed to head to the grocery store. You can get away with wearing one of these just about anywhere. That's one reason they're so popular. You can find one that works with almost any occasion. Read this article about times you might want to avoid wearing a baseball hat.
The History of Baseball Caps
Back in the 1800s, in the early days of baseball, these hats were not around. Of course, hats existed, but nothing quite like the baseball cap.
A Lack of Headwear
When major league baseball first mandated that all players wear something to keep the sun out of their eyes – back before the MLB (Major League Baseball) even existed – there was no consistent hat across all teams. There wasn't even an official hat of any team!
Players were initially responsible for finding their own sun protection. This was the case across the league until 1849. This was the year when the New York Knickerbockers decided it was time to adopt a uniform that was a little more professional and introduced straw hats.
The Straw-Spangled Banner
Thus, the straw hat became an official part of the team's look. It took a while to find their footing, but the teams continued searching for the ideal baseball cap. Luckily, they didn't land on this one, or our fashion choices today could look very different.
However, if you want to peek at one of these original artifacts, you can take a trip to the National Baseball Hall of Fame.
A Wooly Alternative
After a couple of years, a different version took the straw hat's place. This one was made of fine wool called merino and featured a crown and visor. Merino prevents the buildup of odor by absorbing the smell from bacteria, so it was a great option as part of a sporting uniform.
The wool hat was the first to resemble the current baseball cap that we know and love. Since merino was more expensive than other materials, flannel became a top contender for the hat's fabric in the 1860s.
The Stitch Is Here to Stay
Designers played around with different styles and various types of fabric for many years. It wasn't until 1903 when the stitched visor came into play. This revolutionary change allowed the cap's bill to maintain its shape better. This is still the visor you'll see today.
After years of back and forth on whether or not the hats should have logos or be made up of different colors, the Major League Baseball organization finally settled on the current design.
The Cap Becomes Official
In 1954, the modern-day baseball cap became the official hat of the entire organization. It was referred to as the "59Fifty," or the "Brooklyn Style" cap. While it took a long time to get to where it is, the hat's popularity proves that it was well worth the wait.
Read more about why baseball hats were invented here.
Final Thoughts
Most people have at least one baseball cap somewhere in their household. The hat is a staple both in American style and in American culture. From celebrities to presidents to strangers on the street, baseball caps can be seen anywhere you go and are worn by just about everyone.
Discover more intriguing facts about baseball caps here.
There isn't just one reason why so many people wear baseball caps, but many. Baseball caps are comfortable and functional while being a suitable match for all kinds of outfits. Their limitless potential for logos, slogans, and designs also help you show off the things you love while being truly American.