If you pay close attention during an NFL game, you might notice something unusual. When players aren't wearing their bulky helmets, they're sporting bright, rainbow tie-dye hats. So, where did these hats come from, and why is everyone in the NFL wearing them?
The tie-dye hats in the NFL are for the NFL's partnership with the Crucial Catch program, an initiative that spreads awareness for cancer detection and prevention. Since starting the program in 2009, the NFL has raised over $22 million for the American Cancer Society.
So, what is the Crucial Catch initiative, and what does that have to do with NFL tie-dye hats? If you want to know more about the relationship between the NFL and the American Cancer Society or wish to find out more about what these hats do for cancer prevention, keep reading. We'll let you know why it is such a great idea to support your teams with these hats.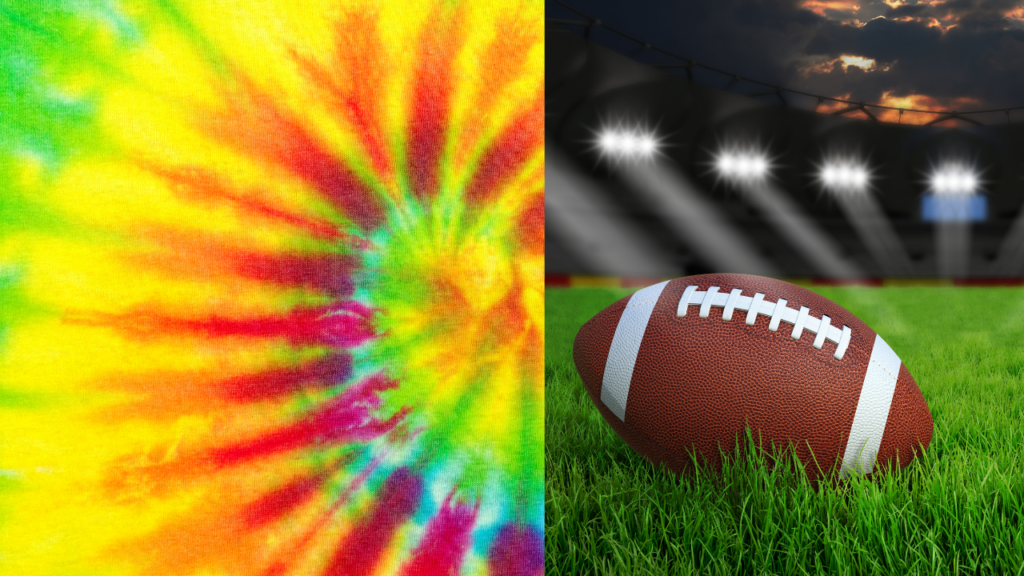 The Crucial Catch Program
The Crucial Catch program has been around for over thirteen years now. It has done some amazing things for cancer survivors and average American citizens all across the nation. But even before the NFL launched the Crucial Catch initiative, the NFL had a close relationship with the American Cancer Society.
The NFL and Crucial Catch Program
We don't have to tell you, but the NFL racks in billions of dollars every year. In fact, in 2020, the NFL made over $12 billion. The National Football League uses this money to promote their sport and support their players. Still, they also use much of their money to support various charities that promote the health and education of people all across the country.
The NFL has always worked with charities to help fund important causes in America. In 2009, the NFL partnered with the American Cancer Society to launch a campaign called Crucial Catch.
The Crucial Catch initiative is devoted to helping people get the education and resources they need to catch cancer early. The funds and following that Crucial Catch earns goes to testing resources, education, and online support for Americans from every corner of the country.
Since the beginning of the Crucial Catch campaign, the NFL has helped raise over $22 million for the American Cancer Society. This money goes to support early detection testing, education, and cancer centers across the nation.
In 2012, the NFL partnered with the Community Health Advocates Implementation Nationwide Grants for Empowerment and Equity (CHANGE). As part of the Critical Catch program, CHANGE has provided over 370,000 screenings in low-income and rural communities across the USA. CHANGE has also reached over 1,070,000 people with cancer screening reminders, education, internet resources, and guidance for cancer patients.
So, the National Football League does a lot of work to spread awareness for cancer detection, prevention, and treatments in America through their Crucial Catch campaign.
To gain momentum for the campaign and spread as much attention as possible, the NFL also encourages all 37 participating football teams to participate in an annual campaign tactic. These include wearing specific colors or auctioning off their game-day clothes and cleats for charity.
Every October, each NFL football team has a Crucial Catch game. During the football game, they raise funds for the American Cancer society and spread information about the importance of early cancer detection.
The teams promote the Crucial Catch initiative in various ways. Still, all NFL players are encouraged to wear shoelaces, wristbands, helmet decals, gloves, and cleats in any color representing a type of cancer that has impacted their own lives and families.
Each season, the NFL redesigns its campaign and uses different events and tactics to spread cancer awareness. In 2019, cheerleaders and football players focused on breast cancer awareness, sporting pink gloves, shirts, and cleats. Other cancer types that the Crucial Catch program targets are cervical cancer, colorectal cancer, prostate cancer, and lung cancer. All of these types of cancer are preventable when caught early on.
The Health Equity Campaign
In 2020, the NFL encouraged some of the best football players from each team to wear the iconic NFL tie-dye hats to raise awareness of the Crucial Catch initiative.
The tie-dye colors all correspond with the color representations of different types of preventable cancer. These vibrant hats kickstarted the "Health Equity" campaign, which focuses on the disparity of cancer detection and health education resources in lower-income and rural areas in the USA.
Starting in October 2019, football stars such as Nick Foles, Matt Peart, Johnny Hekker, and others began to wear their official team tie-dye caps for practices, team photos, and interviews. Thousands of people all across America began to wonder why these caps were blowing up all across the NFL teams during games.
Many people tried to figure it out. The search for the answer brought them to the Crucial Catch website, which features educational resources and a tool that can give you personalized tips on how to reduce your risk of getting cancer. The website also links to more merchandise that you can buy to support the Crucial Catch initiative.
In this way, the caps did precisely what they were supposed to do, which is to get people interested in cancer prevention and make a bold statement about how vital cancer prevention is to the NFL. Whether fans hated the hats, loved them, or just wondered why they suddenly appeared, they became an excellent way for football fans to start conversations about cancer prevention and early detection.
Crucial Catch Merch and Auctions
These multicolored, bold NFL hats boosted in popularity after their introduction, and they're now widely available to purchase. All of the proceeds of these caps and other Crucial Catch NFL merchandise goes back to the American Cancer Society and the CHANGE initiative so that they can continue to spread their message and help people treat and prevent cancer all over America.
You can get your own Crucial Catch game day gear at the NFL Shop. There are colorful t-shirts, hats, socks, sweatbands, and more for each NFL team. When you buy a licensed Crucial Catch product, all of the money from your purchase will go to the American Cancer Society and the CHANGE initiative, so you never have to feel guilty about spending money to support your favorite team.
You can also buy used jerseys, gloves, sweatbands, cleats, and other apparel of all of your favorite football players on the NFL auction site. These items for sale were worn and signed by an NFL player during a Crucial Catch game of the year. Purchasing any of these items is a great way to show your team spirit while also supporting a good cause.
New things are posted on the auction site every week, so if you want to support cancer prevention while you support your favorite national football League players and teams, keep an eye out for new listings. All of the proceeds from these auctions also go to funding the American Cancer Society and CHANGE, so you can feel good about your contribution to a healthier America when you buy your football memorabilia.
Summary
So, if you were wondering what was up with all of those vibrant tie-dye hats that NFL players started sporting in 2019, you weren't alone. Those caps were designed to get people curious and interested in Crucial Catch, which raises money for cancer prevention and spreads educational resources to all people across America.
Since they support such a good cause, these caps are a great way to show your love for your team and support the health of people all over America.
Check out this NFL Dallas Cowboys New Era 2020 Crucial Catch 950 Youth Hat Tie-Dye on Amazon.