Famed baseball legend Ken Griffey Jr. brought backward hat-wearing into the mainstream in the 90s. Interestingly enough, it didn't start as a fashion statement but rather was a way for Griffey to wear his dad's hats as a kid.
Since he made the major leagues, the backward hat has been a look imitated by celebrities and "cool kids" alike. What gives backward hat wearers that certain je ne sais quoi that makes them look so effortless?
If the backward hat is a look you'd like to try to create, here are a few tips for how to look good wearing a hat backward.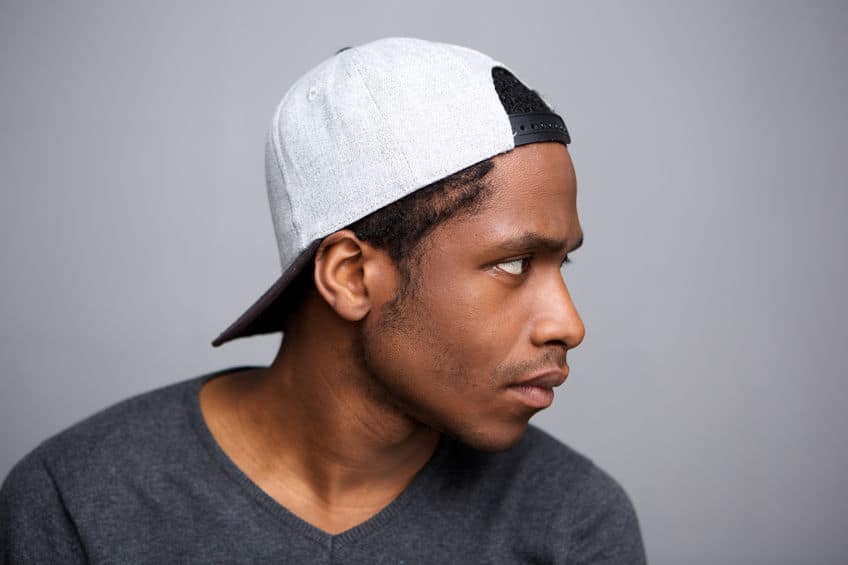 Buy your hat in a bigger size.
In order for your hat to fit comfortably backward on your head, you may want to consider purchasing a hat in a bigger size for the express purpose of wearing it backward. You don't necessarily want a tight fit when you're wearing your hat backward since you're not using the bill for shade, and it's less likely that wind will lift the hat off your head.
Backward hats look best when they're a little loose. If you're hoping to repurpose a hat you already have, you may be able to adjust the band big enough to make it work. You could always see if one of your parents has a hat in a bigger size, and pay homage to your mom or dad, just like Ken Griffey Jr. 
Match your hat to a style.
In order to pull off the backwards hat, it needs to go with the rest of your outfit. If you're wearing a hat with your favorite sports team, it might be fun to match it with a jersey. Backwards hats go great with streetwear. Justin Beiber is known for the backwards hat and streetwear combo.
You can even dress up the backwards hat if you're really feeling like making a bold statement. With a backwards black satin ball cap and matching suit, you'll look like you're on your way to the BET Hip Hop Awards.
Style your hair around the hat.
If you have long hair, consider styling your hair around wearing your backwards hat. That way you don't risk not being able to fit your hat on your head. As an added bonus, this will help your style look more cohesive. Consider braids or loose waves that can peek out from under your cap and add volume to your head. This will help to keep your backwards hat secure no matter the weather you encounter throughout your day.
Match your backwards hat with sunglasses.
You can elevate your backwards hat to a whole other level by finding a matching pair of sunglasses. Outside of looking fresh, sunglasses are also fashionably functional, since the bill of your hat won't be providing you any shade, sunglasses can help you keep the sun out of your eyes. Sunglasses also add an element of mystery to your style. People on the street may even be wondering if they've seen you in a movie or heard any of your music.