Parasols and umbrellas may appear the same at first glance, and, as such, many will tend to use the words interchangeably. This is a mistake, however, as the difference between the two is like night and day.
The difference between a parasol and an umbrella is their purpose. While a parasol is typically used for blocking sunlight, umbrellas are used to divert rain. Because of this, umbrellas and parasols are made from different materials.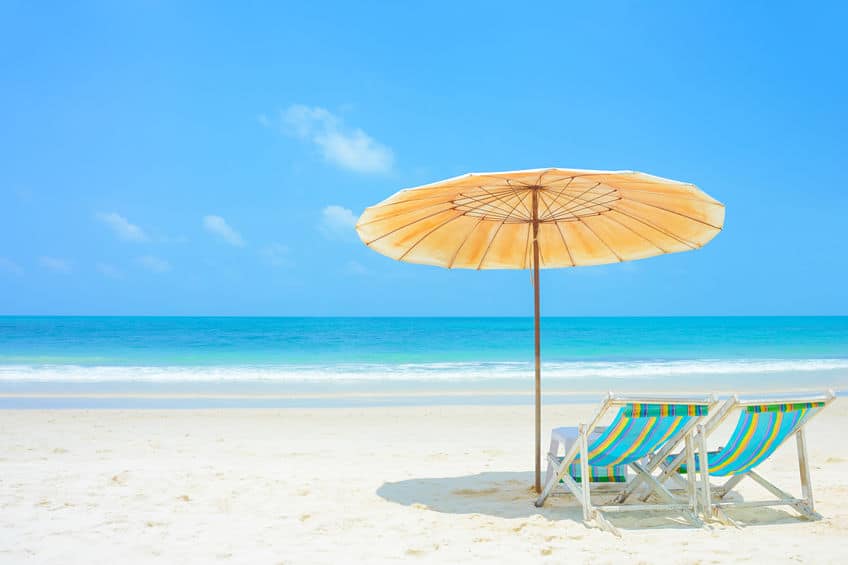 What Are Parasols?
A parasol is an umbrella-like accessory used primarily to block out the sun. Parasols come in many different shapes, sizes, and varieties. Some are handheld, and others are mounted in place so that users may sit or stand underneath while they mingle on hot, sunny days.
Another purpose for parasols is to be used for fashionable and aesthetic purposes. Parasols are made from a wide array of different materials with an emphasis on colors and styling.
Parasols come in just about any shape you could imagine. They can be square, triangular, flat, domed, round, or oval.
Parasols are most commonly found on patios for restaurants, weddings, sporting events, barbecues, and near swimming pools or hot tubs.
Many parasols may also be branded with company logos when used for commercial purposes. This may include sports teams or event sponsors. For this reason, parasols act as a tremendous promotional advertising placement as well as a sun buffer.
If you are interested in purchasing a stylish and high-quality parasol, consider checking out AEAOA's Bamboo Cloth Parasol on Amazon. This parasol, available in many colors, is as elegant as it is functional.
Materials Used for Parasol Construction
When it comes to the fabrication of parasols, many different materials are often used, including polyester, cotton, acrylic, and Teflon.
A parasol frame is typically constructed from steel or aluminum, but other options, such as wood, bamboo, or plastic, may be preferred.
Because waterproofing is not necessary when it comes to parasols, they are very flexible in the materials they can be made from, allowing designers to become much more imaginative and creative.
Oil Paper Umbrellas
Another parasol form is sometimes known as an "oil paper umbrella." These have a long ceremonial history in China and Japan, dating back hundreds of years.
Oil-paper umbrellas are designed mainly for fashionability and are known for exuding vibrant colors. They are usually small and straightforward in their design structure. As seen here on Amazon.
One of the most common places you will find oil paper umbrellas is at traditional weddings, conducted with a cultural emphasis.
The first and most readily apparent way umbrellas and parasols differ is the intended application of their respective uses.
What Are Umbrellas?
An umbrella is constructed from either wood, plastic, or metal. It consists of a handle grip, a pole, a dome-like skeleton or frame, and a material that protects from the rain.
Most umbrellas are compact and retractable, which allows them to be carried and stored conveniently.
Another typical style of rain umbrella is the cane style. Cane-style umbrellas typically feature a hook-like handle, are long, large, and have a pointy point on the top. While cane umbrellas are becoming less popular, they are still relatively common.
For a durable and sleek umbrella that is guaranteed to keep you dry in even the worst of situations, we highly recommend the Repel Double Vented Windproof Umbrella on Amazon. This umbrella is not only formal but compact and also as durable as they come.
Material Used for Umbrella Construction
For an umbrella to fulfill its intended duty, it must be waterproof, and to be waterproof, specific materials must be used.
The most common fabric used for modern rain umbrellas is nylon. Nylon is lightweight and water resistant. Nylon also dries very quickly.
Plastic is also used on cheaper umbrella models but typically is less durable.
Golf Umbrellas
Golf umbrellas are around 30% bigger and sturdier than your typical umbrella. Designed for two people to stand under they are often both strong and lightweight, designed to be carried around the golf course in often very exposed environments. (Such as this model on Amazon).
Final Thoughts
Parasols and umbrellas can be a great way to spruce up your wardrobe, and add character to your attire. Matching hats, shoes, shirts, and dresses can be selected to go with your umbrella, and send a fashion statement to your friends and colleagues.