What's a more delightful summer activity than a day at the beach? The sand, the waves, and the sun make for excellent outdoor fun. If a day at the beach sounds like what you need, make sure you do a little prep work before reaching for your swimsuit.
Beating the heat and direct sunlight are two of the trickiest parts about spending time on the beach. To keep you cool and shady, here are a few tips for wearing a hat at the beach.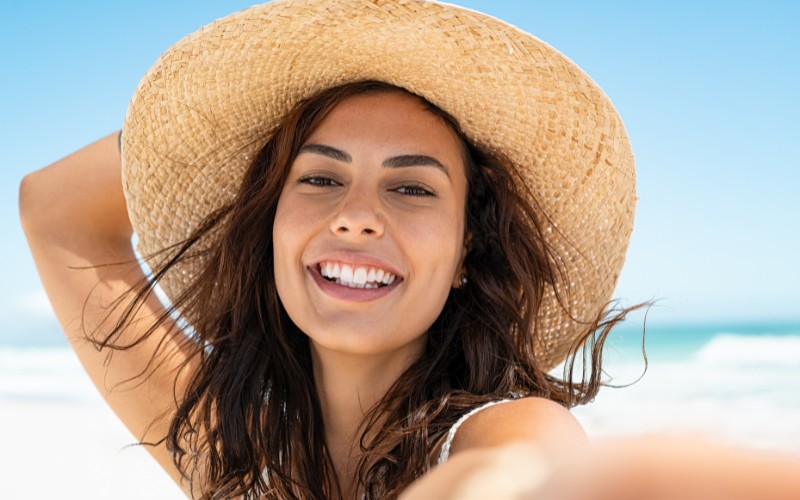 1. Decide what you're hoping your hat can accomplish. 
Are you hoping that your hat will protect you from the sun or keep you cool? If you're looking for sun protection, you'll want a hat with a tighter fabric weave. If you're very serious about staying out of the sun, look for a hat that's made of a material with a UPF rating of 30 or higher.
Materials with a rating of 30 or higher are backed by the Skin Cancer Foundation as quality products. The UPF rating will tell you how much protection the material provides from the sun's harmful ultraviolet rays. 
On the other hand, if you're planning on slathering up with sunscreen and are just looking to stay cool, choose a hat with a loose weave. A straw fedora or sun hat are great options. The loose weave of the hat will allow air to flow freely, keeping you nice and cool.
2. Consider how much coverage your hat is giving you. 
Again, protecting yourself from the sun when you're out all day is really important. You're going to need to reapply sunscreen, but wearing a hat can prevent you from getting burnt in certain areas. If you're out on a cloudy day, a ball cap or sun visor could be perfect to shade your eyes and keep the sun from burning your nose, the top of your head, and your scalp.
However, on a day with full sun, you may need fuller coverage. Consider purchasing a wide brim sun hat. Boonie hats provide you with fuller coverage due to their wide brims. Flap hats are considered some of the best hats that provide sun protection.
This Mission cooling bucket hat on Amazon offers UPF 50 protection
3. Balance fashion and function. 
Not all the best hats for the beach that rank high in function are the most fashionable. It's totally fine if you want to break out your sun visor or ball cap for some great snaps for your Instagram, but make sure you're remembering to hit your neck and shoulders with extra sunscreen. 
4. Bring a foldable hat. 
You might need to bring a lot of gear to the beach: shovels, buckets, shade tents—the list goes on and on. It may be easier for you to be able to pack your hat, rather than wearing it in case your hat becomes cumbersome while you're wrangling kids or a beach umbrella. A collapsible sun hat will be quick to store and won't warp, like a straw sun hat if you shove it in a bag.
If you're headed to the beach, don't forget your hat. No matter if a collapsible sun hat, a visor, a ball cap, or a boonie hat is more your jam, make sure it will meet all of your beachy needs before heading out.