Form fitting beanies are great. They feel snug and keep us warm. The problem is as we move about they can often ride up on the head, which over time can become annoying. Especially if constant adjustment is needed.
The best ways to stop a beanie riding up are:
Wear the Beanie over the ears
Use hat / bobby pins to secure the beanie
Wear cuffed beanies
Try different sizes and styles of beanie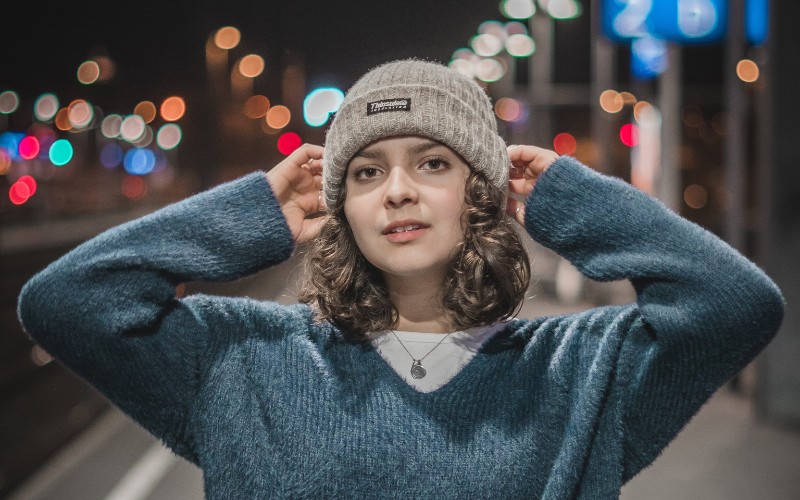 1. Wear the Beanie over the ears
This standard way of wearing a beanie not only has the advantage of keeping your ears warm but also helps keep the beanie in place. Assuming you are happy with this look, this simple tip may well be the most effective.
2. Use hat / bobby pins to secure the beanie
This method can be effective for people with a fine head of hair. Your hair may be contributing to the beanie springing up, so why not take advantage your thicker hair to secure your beanie with a bobby pin or two. The other advantage to this is the ability to wear your beanie in all kind of positions without worrying about it riding up or falling off. You can find these inexpensive pins on Amazon with a guide on how to use them.
3. Wear Cuffed Beanies
If you want to secure your beanie but don't want to totally cover your ears then a cuffed beanie could be the ideal compromise. The cuff helps to secure the beanie and you can probably get away with only covering half your ears by wearing a beanie this way.
This popular Champion cuffed beanie on Amazon is a great choice when looking for a cuffed beanie.
4. Try different sizes and styles of beanie
If your beanie is riding up then your first thought might be that's too big. A smaller size may grip better. While this may be the case, the opposite may also be the case. When a beanie is pulled down too tightly it is far more likely to spring up on your head than a hat with more give.
Many beanies are one size, which while suiting most people may not be ideal for you. Look for a beanie that comes in different sizes to ensure you are getting a good fit. You may also want to try a looser beanie style. A slouchy beanie could be ideal if you prefer wearing your beanie higher on your head. If you have curly or thicker hair then this can also be a great option. You could even try satin lined beanies which as well as protecting your hair from damage can also reduce the movement that can cause beanies to move.
Check out this very popular slouchy beanie on Amazon
Beanies are a great hat and ideal for colder months. Beanies can be amazingly comfortable and with the right fit and style they do not have to be constantly adjusted.