For as long as we can remember, the wardrobe choices of first ladies have been scrutinized for both style and meaning. Amongst all of the iconic moments in fashion that have come from FLOTUS' past, there are perhaps none more influential than the ones of Jacqueline Kennedy Onassis.
During her time as First Lady, she solidified her place as a fashion icon, making waves with her hat choices that are known and felt to this day. Most famous is the pillbox hat, her preferred headwear and one of the main fashion statements she became known for. Here are some facts about the style that marked Jackie O's time in the White House.
The Dented Pillbox That Launched Halston Into Fame
The world-famous blue pillbox was first worn by Jackie Kennedy during JFK's 1961 inauguration. The event can be argued to have established her association with the style. The hat was designed by Roy Halston Frowick, who is known solely for his middle name. At the time of the inauguration, Halston was already an established milliner. Nevertheless, the hat designed for the First Lady was a milestone in his career, inevitably launching him into widespread fame. To get a similar look you can check out this popular vintage pillbox hat on Amazon.
According to Vogue, a 1966 interview with Halston revealed that Jackie O' actually dented the hat by holding onto it as a rush of wind hit. After the inauguration, "copycat hat makers reproduced the design by the thousands so accurately that each pillbox had a dent in it." A trend had been set.
A new miniseries inspired by Halston's life and starring Ewan McGregor, "Halston," has just been released on Netflix.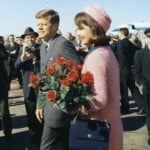 The Pillbox Missing in Action
Although pillbox hats were worn by the First Lady all throughout her time next to Kennedy in office, there were two that went down in history. First, the inauguration pillbox. Then, even more famous and certainly more tragic, the pink pillbox that the FLOTUS was wearing at the time of Kennedy's assassination in 63′.
The pink suit worn on that November 22nd made it to the National Archives, although it is to be displayed, tentatively, only in 2103. The hat, however, seems to have gotten caught up in the aftermath of the deep-cutting American tragedy, and was lost. Reports of it being handed to Jackie O's personal secretary seem to be the last traceable account of its whereabouts, and it has not been placed since.
Jackie Kennedy was undeniably a fashion force, both in her time and in the many decades that followed her most popular years. Beloved by many, she was known both for her class and her style, as it naturally spread throughout the United States and other parts of the world as new trends. Beyond question, the pillbox hat marked some of the most important moments in her fashion book, as well as her life. Read more intriguing facts about pillbox hats here.