Many of us dream of sunshine and clear blue skies for our wedding day. We want everything to be perfect, but the reality is you may have to deal with rain. It can be a common occurrence depending on the time of year and location of your big day.
Whatever the case, it's best to stay prepared with a wedding umbrella. These types of umbrellas are stylish, elegant, and make excellent accessories in wedding photos. There are a few things to consider when buying a wedding umbrella, so read our tips before you begin your search!
Match Your Umbrella To Your Wedding Theme
It's easy to go to a store and pick up the first umbrella you see, but it might look out of place at your wedding. Carefully choosing an umbrella that fits with your theme, or matches your outfit, will look much better.
If you're having a traditional wedding and are wearing a lace gown, you might want to choose a white pagoda umbrella with a lace trim. If you're opting for a more contemporary feel, like a downtown hotel wedding with a sleek satin dress, you may prefer a clear umbrella. If your wedding is somewhere in the middle, you can keep things simple with a minimalist white umbrella.
You can also match your umbrella to your wedding colors or flower bouquet. It's a great way to add a vibrant pop to your wedding photos, and it shows that you know how to embrace the rain. Choose a solid-colored umbrella, a striped umbrella, or be subtle with a colored trim.
Finally, you can choose fun customized umbrellas. Many vendors offer wedding umbrellas with sweet messages like 'Just Married', 'I Do', or 'Mr & Mrs'.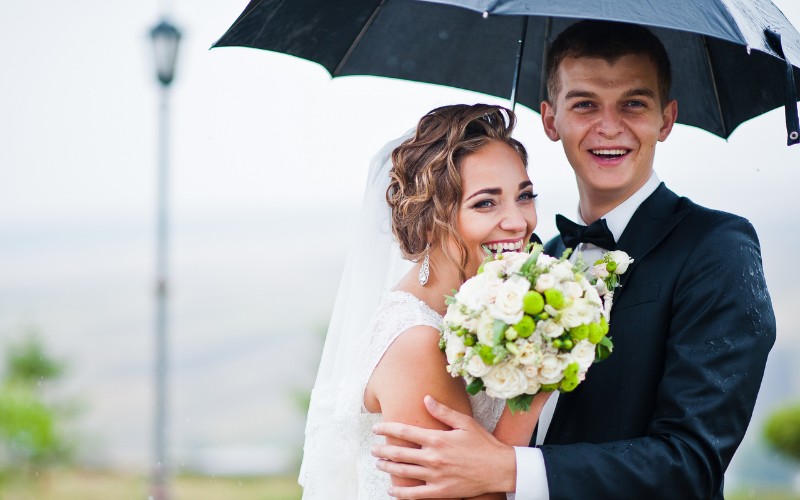 Include Your Wedding Party & Guests
There will always be someone who forgets to bring an umbrella, so make sure you have everyone covered. It makes you a considerate host and keeps spirits up on the day. You may want to choose matching or themed umbrellas for the wedding party, as they will look better in photos. Different umbrellas are perfectly fine if the wedding party isn't wearing identical outfits. Just make sure they're all in a similar style to keep things cohesive.
Set up a basket with umbrellas for guests close to the entrance of your venue. They will double as party favors, and your guests will appreciate the thought!
Think About Sizes
Once you've decided on the color and style of your wedding umbrella, it's time to think about the size. Do you want everyone to have individual umbrellas, or do you believe that sharing is caring? You may want to have a combination of different sizes, like a large golf umbrella for the bride and groom to share, and smaller individual umbrellas for everyone else.
Wedding Parasols
Even if you know that your wedding will be warm and sunny, you may still love the idea of a wedding umbrella. In this case, you'll want a wedding parasol. These pretty accessories are designed to offer protection from the sun and have a romantic, vintage feeling. Like umbrellas, parasols come in many different colors and styles so you can easily find one that matches your dress or wedding theme. They also make nice party favors and props during summer weddings.
Be prepared for any type of weather with a wedding umbrella!