Modern silk hats are often a silk-blend fabric mixed with another textile. Hats may also have a silk lining.
A real silk hat, unless custom-made, is much harder to find despite being a big part of fashion for centuries.
What Is Silk?
Silk is a natural fiber produced by larvae of the mulberry silkworm. The natural fiber is then woven into a textile. Silk was developed in China. The famous silk road trade route was partly established to trade this precious material.
During the peak of the silk hat era, the silk used to produce the hats was sourced from China and India.
The First Man To Wear a Silk Top Hat in Public Was Arrested and Fined for Breaching the Peace in the Streets of London
In 1797, John Hetherington, a haberdasher in London, made the silk top hat's debut. Its gleaming black silk and height were a bold, new style for the time. So bold, his public display of the hat caused quite a commotion among Londoners about town. 
Reports claim people were so shocked they shrieked, gasped, and at least one person fainted. Hetherington was arrested for wearing the hat and "disturbing the peace." He was also fined for an attempt to "incite a riot."
Read more about John Hetherington and his hats in this article.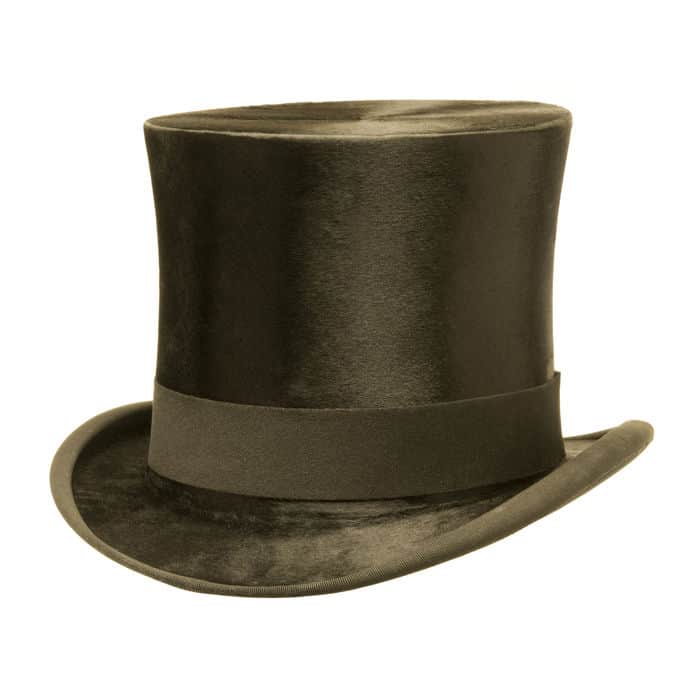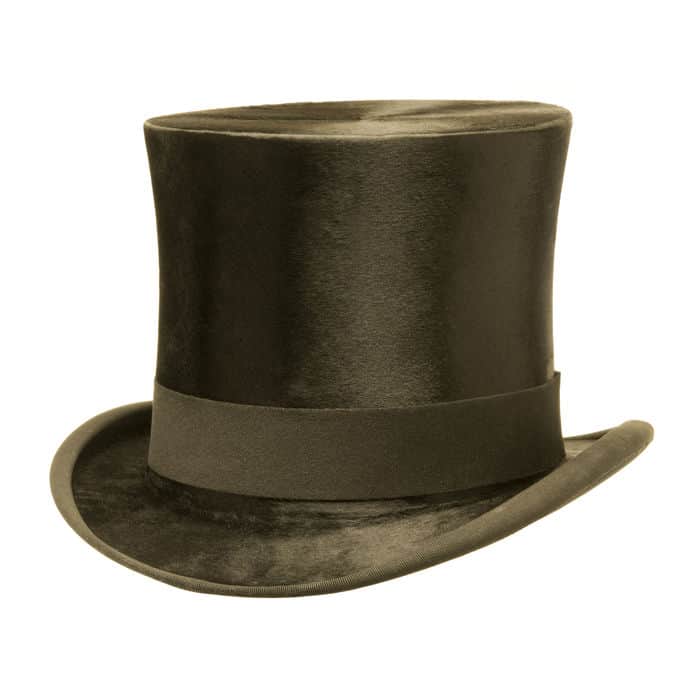 Early Twentieth-Century Women Wore Silk Caps at the Breakfast Table To Hide Curlers and Uncombed Hair
Women's negligee caps were the most popular silk hats in the early twentieth century. And it was common for women to wear these headpieces at the family breakfast table.
These silk caps were overlaid with lace and fastened with fancy pins to the sides of the head. The purpose was to hide untidy, uncombed hair or curlers and spare women from being an "eyesore" early in the morning.
There Is a Famous Silk Top Hat on Display at the Smithsonian
Abraham Lincoln famously wore a silk top hat, and the hat he wore on that fateful night at Ford's Theater was transferred to the Smithsonian Institution with permission from his wife, Mary.
At the time, there was still so much excitement surrounding Lincoln's death that the Secretary of the Smithsonian hid the hat in a basement storage room. 
It wasn't until 1893–a quarter-century after receiving it–the Smithsonian lent the hat to a Lincoln Memorial Association exhibition to be seen by the public for the first time. Today, Lincoln's silk top hat is one of the most treasured objects at the Smithsonian.
Women Wore Silk Caps at Night for Shiny, Glossy Hair
It was believed that if a woman wore a cap at night, it should be made of silk because it would "communicate electricity to the hair" and create a gloss or polish-like shine. Caps advertisements often promoted this scientifically unproven beauty tip. Silk nightcaps remain super popular today such as this option on Amazon.
Read this article to discover more about silk night caps.
Authentic Silk Plush Top Hats Haven't Been Factory-Made Since 1968
The new top hats manufactured by factories today are felt or leather, an upgrade in durability from their silk counterparts, which were easily damaged.
However, it wasn't a quality concern that ended this tradition. The main reason was the world's sole remaining silk plush factory (in Lyons, France) was closed permanently in 1968. 
Vintage silk top hats can still be found; however, if you want a new one, you'll have to seek out a milliner or top hat designer to custom make it.
If in doubt you can get an outstanding quality silk hat from Lock and Co, the oldest hat company in the world.
Final thoughts
Silk hats have been popular with both men and women throughout the centuries. The look and feel of silk create an aura of elegance and style that other fabrics can't match, and wearing a silk hat is a sure way to raise your fashion game.