Hiking has always been a favorite pastime of outdoorsy folks. The number of hikers has only increased since the pandemic as people looked for more ways to spend time outside their homes. If you're among the group of new hikers, welcome.
Depending on how strenuous your hikes are, you may require different gear. A hat is essential, no matter what location you're hiking or what time of year. There are so many hiking hats to choose from. Here are a few tips to help you choose the perfect hiking hat.
Choose a water-resistant hat.
You never know what the weather has in store while you're out in the great outdoors. In case of unexpected rainfall—or waterfall adventure—during your trek, you'll want to ensure your hat is made of waterproof or water-resistant material.
Bucket and Boonie hats are great if you're looking for a waterproof option. You can also spray a waterproof coating on your hat to keep you dry. Forcefield available on Amazon is one such waterproof spray you can check out.
Boonie hats are the ideal hats for protection from both sun and water. You can check out these popular options on Amazon for some ideas.
Pick a hat with a brim.
A hat with a brim can be the most functional addition to your hiking kit because it protects you from the sun's harmful UV rays and can keep the rain out of your eyes. Wearing a hat with a brim can also reduce exposure to ticks.
Wear a hat with an adjustable string.
It can get windy outdoors, so the perfect hat is going to be able to stay put even on the windiest mountain tops.
A Boonie hat with a drawstring is the ideal hat for windy hiking environments because you can secure it whenever the wind picks up and wear it around your neck. You can also find a sun hat drawstring closures to secure it so you can adventure uninhibited.
Find a hat that fits your hiking climate.
Some people prefer to hike in cold climates. As a result, a warmer hat will be the best option. Beanies are perfect for cold weather hiking because they will keep you warm and can even keep your hair out of your eyes, so you never miss a view. If you're in the market, consider adding a Minus33 Merino Wool Ridge Cuff Beanie (Amazon) to your pack.
Merino wool is soft, comfortable, and warm but also breathable, making it ideal for hiking in colder weather.
Wear a straw hat for an Instagramable hike.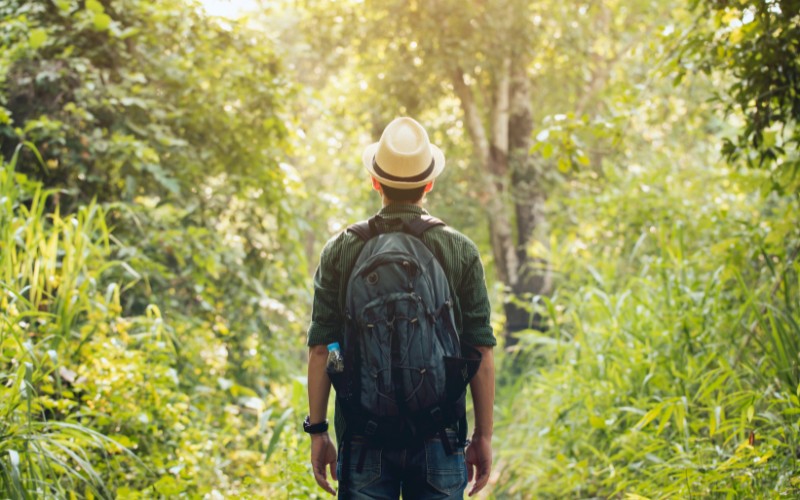 As long as your hike isn't too strenuous, a straw fedora or sun hat could be perfect for keeping you cool and in the shade. Fedoras and sun hats are also stylish. A striking hat makes for great pictures to blow up your Instagram with nature pictures.
Treat your hat's material with tick and bug repellent.
The bugs can be brutal, depending on where you're hiking. Before you even leave for your adventure, you can treat your hat with PERMETHRIN Fabric Treatment (Amazon) mosquito and tick repellent.
It lasts for six weeks or until you wash your hat. While you're at it, you may want to spray your shoes and outerwear.
Enjoy your hiking 🙂