Throughout modern history, fashion trends have come and gone. One trend that has yet to leave the public eye is the cowboy hat, which has somehow survived decade after decade. So, what are some of the most intriguing facts about the cowboy hat?
The modern-day cowboy hat dates back to 1865, when hatmaker John B. Stetson built its prototype. Since then, the cowboy hat has become a fashion icon, sported by Western star John Wayne, though the bowler hat quickly outpaced the real West's cowboy hat. 
Now that you have a taste for this iconic hat, it's time to dive a little deeper into its background! Follow along as we discuss the hat's history and seven intriguing facts about this accessory.
The History of Cowboy Hats
When John B. Stetson first headed west, nobody predicted the legacy that he would leave behind. Today, Stetson is best remembered for pioneering the original cowboy hat through his John B. Stetson Company in 1865. Little did Stetson know that his design would quickly become the original hat of America's Wild West. Read about cowboy hats in Texas in this article.
Stetson (and his hats) would soon reach worldwide acclaim as the globe's largest hat producer. His company's line-up also included quality footwear, accessories, and other clothing items. Read more about why cowboys wear hats in this article.
Read more about the origin of the cowboy hat here.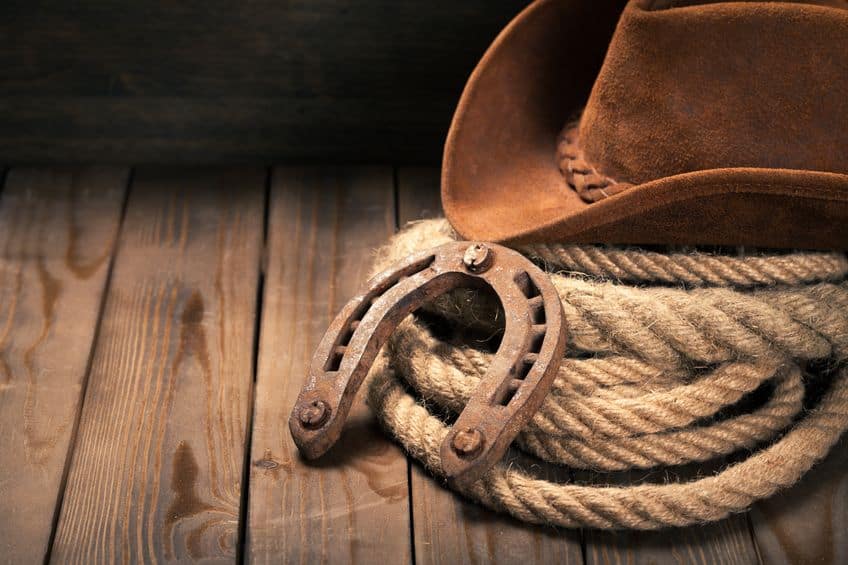 John Wayne Often Wore Cowboy Hats in Films
In his final film, The Shootist, John Wayne sported a custom cowboy hat on his dome. This Wayne-style hat featured a pinched front, a six-inch (15.24-cm) crown, and a triangular crease, a model still sold to this day! Read more about John Wayne's hats here.
The Shape of the Hat Describes Who You Are
In the case of cowboy hats, your hat's style and shape represent who you are! For example, a relatively tall hat with a narrow crown was popular amongst cattlemen, both a fashion statement and functional headwear. This hat's practicality also included tugging it down to fit tighter, protecting against the wind, rain, and sand.
Many Cowboys Preferred the Bowler Hat
Due to its sleek, aerodynamic construction, the bowler hat was much more practical than the cowboy hat for horseback travelers. The bowler was far more skilled at deflecting wind, dirt, and sand than the traditional cowboy hat. So while the cowboy hat was specifically designed for workers out west, many outdoors sported bowlers instead.
There Are Two Major Cowboy Hat Specialty Companies 
Although the cowboy-style hat has been around for some time now, nearly two centuries to be exact, there are still two highly reputable, quality brands that sell the original cowboy hat: Resistol and the John B. Stetson Company. Check out this popular Stetson hat on Amazon.
Cowboy Hats Are Described by the X-Factor
The X-factor rating system is the most common way to define a cowboy hat, describing the percentage of pure fur used to craft the hat's felt. Similarly, the quality of the felt will determine how expensive or inexpensive the cowboy hat will be. 
Some Cowboy Hats Are Very Expensive ($5,000+)
Currently, the most expensive cowboy hat on the market is the Diamante, originally popularized by the John B. Stetson Company. Today, Stetson still produces this incredibly high-quality cowboy hat, now sporting a massive $5,000 price tag. Read more about why Stetson hats are expensive in this article.
Cowboy Hats Are Mostly Weather-Proof
With the exception of the straw hat, the cowboy hat is designed to handle long hours in direct sunlight or mild rain. As a general rule of thumb, any cowboy hat that is crafted from natural fibers, like the straw hat, should not be exposed to the natural elements for as long.
The Resistol brand, in particular, has been known to craft especially durable hats capable of surviving both rain and snow. However, thunderstorms or heavy rains could break down the felt of a cowboy hat over time. 
Conclusion
Cowboy hats are one of the few accessories that have withstood the test of time. That's in part due to movie stars like John Wayne and the hat's practicality, which makes it excellent headwear on the farm in rain, snow, or sun!
Considering its deep roots in American history, the cowboy hat seems to be on track to remain popular for the foreseeable future. Though fashion trends will come and go, American culture will be hard-pressed to let go of this iconic cowboy hat!