Although they're not as much of a staple in today's culture as they were 100 years ago, hats are still an essential part of many people's wardrobes and have been for thousands of years. The first depiction of a hat dates back to about 3200 B.C., and while there aren't any hat brands that have been around quite that long, there are some old ones.
The five of the oldest hat brands in the world include Lock & Co., Borsalino, Bollman, Stetson, and Christy's. Lock & Co. and Christy's are located in London. Borsalino is Italy's oldest hat company, and Bollman and Stetson both originated in Pennsylvania in the U.S.
In this article, I'll tell you a little bit more about the history of each of these five companies and the hats they sell. Let's get started.
The World's Oldest Hat Brand: Lock & Co. Hatters, 1676
Established 345 years ago in 1676, Lock & Co. is the oldest hat shop in the world and the oldest shop in London. Originally founded by Robert Davis, the company became a household name after creating the now-famous bowler hat.
Today, they sell both traditional and modern hats. They take pride in their scrupulous attention to detail and the fact that "each hat purchased is carefully and expertly hand-prepared in [their] London shop." Read more about Lock and Co hats in this article.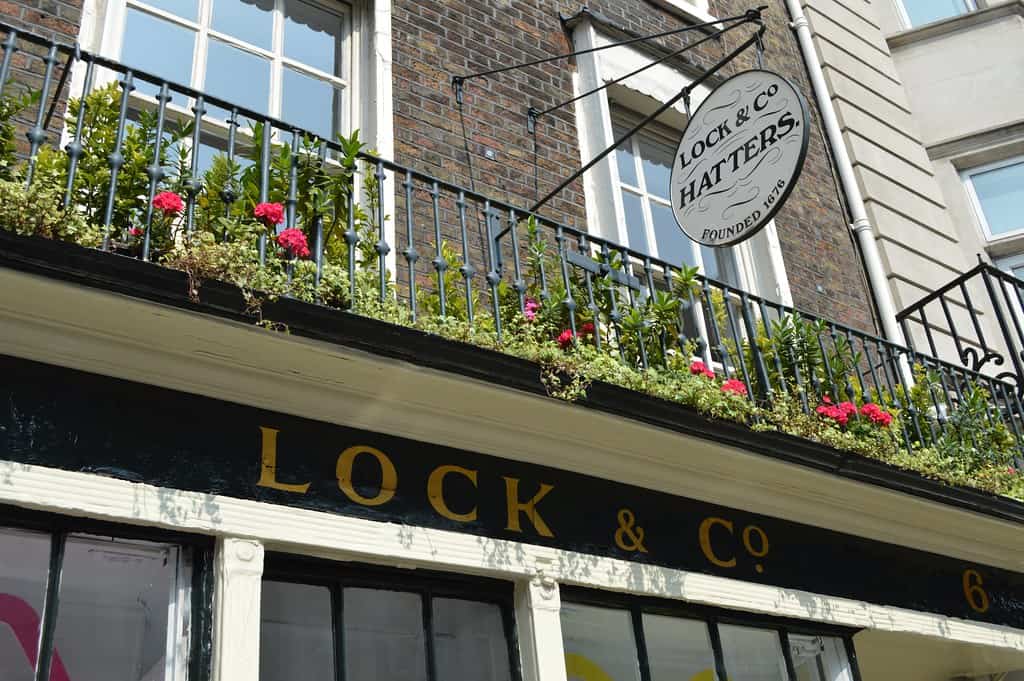 Another Esteemed London Hatmaker: Christy's, 1773
Although not quite as old as Lock & Co., Christy's hat company has been around for quite some time—248 years, to be exact! Established in 1773 by Scotland hatmaker Miller Christy and his Quaker partner Joseph Storrs, Christy's has supplied the royal family with hats for over a hundred years.
Today, Christy's is the only company in the world that still uses traditional hatting skills to make bowler hats. They also sell more modern hats for both women and men.
Discover more fascinating facts about Christy's in this article.
The Oldest in Italy: Borsalino, 1857
Many people consider Italy the pinnacle of fashion, and Borsalino Hat Company is Italy's oldest, most esteemed hat company. It was founded in 1857 by Giuseppe Borsalino as an Italian luxury hat manufacturer.
The company gained even more popularity in the 1930s when Hollywood began using its hats in famous films. The most notable were the hats Ingrid Bergman and Humphrey Bogart wore in Casablanca.
Now, Borsalino features many collections, including both modern and more traditional styles. They also offer a "Made to Measure" hat experience that allows customers to design custom hats.
The Oldest in the US: Bollman Hat Company, 1868
The original Bollman Hat Company, established in Adamstown, Pennsylvania, in 1868, is the oldest hat company in America that's still in business. Although they now make and sell several different brands of hats in addition to the Bollman brand, they remain dedicated to excellence and quality.
They now have bases of operations on four different continents and employ over 300 people.
Bollman also own the Kangol hat brand famous for hats such as the infamous bucket hat seen here on Amazon.
The Cowboy Favorite: Stetson, 1865
You may notice that Stetson's original founding date, 1865, is actually earlier than Bollman's. Stetson, however, stopped making hats in the 1970s and didn't resume production until a decade later. By then, however, Stetson had been acquired by another company.
Stetson hats are still manufactured and sold today, and the Stetson brand is technically older than the Bollman brand. However, because of all the closing, selling, and reopening, Bollman Hat Company is recognized as the oldest hat company in America.
Stetson's most famous products are its traditional cowboy hats, which is probably why the company that started in Pennsylvania now makes hats in Texas.
Read more about what makes Stetson hats unique in this article.
Check out this very popular Bozeman Stetson Hat on Amazon
Final Thoughts
Whether you're a hat fan or not, hats have been a part of human's daily lives and wardrobes for thousands of years, and they're probably not going anywhere any time soon. So if you're a true hat aficionado looking for a high-quality hat from a company with history, check out any of these five old-school hat brands.