Hat brands throughout history have presented the very best designs for men and women. Yet, it's only a few that knock it out of the park with each release, of which they have now become some of the best brands in the world. What are the five most famous hat brands?
The most famous hat brands include Stetson, New Era, Christy's, Barbour, and Lock & Co Hatters. These brands are famous due to their attention to detail, quality craftsmanship, and affordability. If you find one of these hats for sale at an affordable price, you'll want to grab it.
This article will list five of the most beloved hat brands globally, explaining why they deserve the top spots. Grab your hat and let's go!
Barbour
Despite its luxurious style and quality, Barbour is one of the most affordable and durable brands you'll ever find. It's a well-loved British brand that started in 1984. The brand even equipped people with quality dog accessories for their beloved pets.
In the years to come, they perfected their signature collection of waxed jackets and hats. Its popularity led to the brand expanding its business to numerous countries worldwide, with more than 40 retail stores under its belt. Despite increasing their collection to include a complete wardrobe, their selection of bucket hats, flat caps, fedoras, and the classic Panama hats continue to garner attention.
Lock & Co. Hatters
Lock & Co. Hatters is one of the oldest family-owned businesses in the world. The original store and the world's oldest hat shop is located on James's Street in London, but that's not what makes it so unique. They are responsible for designing the bowler hat, making the brand a pioneer in hatmaking.
Since its inception in 1676, the brand has equipped well-known people such as Sir Winston Churchill with his signature Homburg and branched into beanies and baseball caps. But if you're interested in buying one, remember that these hats come with a hefty price tag, courtesy of their 300 years of experience. Discover more about Lock and Co. in this article.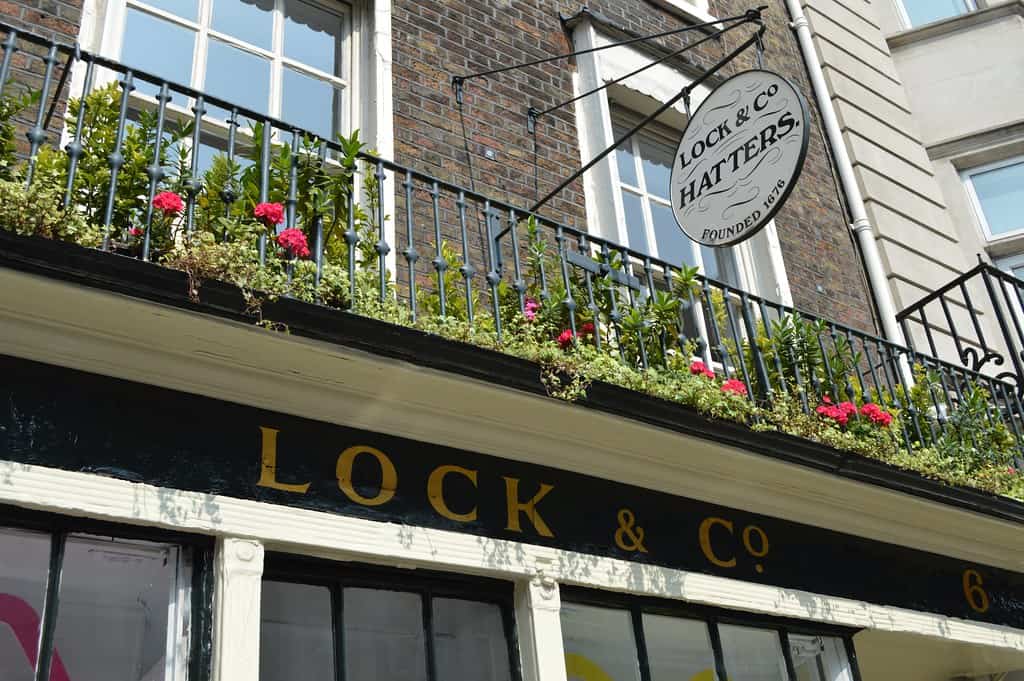 Christy's
Can you imagine Indiana Jones without his signature hat? If you've ever wondered where he got it from, you can thank Christy's for it. This British historic hatmaking brand has furnished Marlon Brando, Brad Pitt, and the UK Police Force with iconic headwear.
What makes Christy's such an iconic brand is its unique production methods and exceptional craftsmanship. While they have also branched out to other headwear styles, their iconic hats still reign supreme among fans. Discover more about Christy's in this article.
New Era
New Era is the official supplier for every Major League Baseball team in the field. They also offer official gear to fans around the United States and have made snapbacks a classic.
Well-loved for their quality and craftsmanship, they recently brought back their flat peak cap model to life, naming it the 59Fifty. Complete with the NY amalgamated logo on the front, the 59Fifty cap has been featured in the field and in multiple music videos and movies. Read more New Era hats here.
Considering that the cap is affordable enough, New Era continues to have a substantial fanbase, not only in the United States but also around the world. Check out these incredibly popular New Era hats on Amazon.
Stetson
Can you think of any classic Western without the signature Stetson?
Designed by Philadelphia hatmakers, the brand Stetson started in the 19th century and was well-respected in the old west. So much so that the name Stetson soon became synonymous with the hat.
If you had a Stetson, you had something durable and stylish, which is regarded as a status symbol until today. The fact that Stetsons are pricey adds to the intrigue of the headwear.
Check out the Stetson Bozeman on Amazon, one of Stetson's most popular hats.
The Stetson represents the authenticity of American history and culture that is passed down from generation to generation. So, you can only imagine how amazing a Stetson would be to still retain its shape and quality. Read more about why Stetson hats are expensive here.
Final Thoughts
The brands above are your ideal choices if you ever want a hat that ticks all the right boxes regarding quality and craftsmanship. Go ahead and find yourself a hat that fits your style and personality. You'll be surprised by how quickly your hat will become a permanent feature in your everyday style!