In the early 21st Century, hats were a crucial part of a distinguished gentleman's wardrobe. So ingrained was the hat culture that some hat styles became associated with famous historical figures.
Winston Churchill wore a gray top hat, a straw Panama, a John Bull, and a tan Stetson, but he was more famed for his homburg hats.
The Homburg was a soft-felt hat with a center crown dent and a stiff, flat brim with a curved edge. It had a tall narrow crown with a wide silk grosgrain hatband ribbon.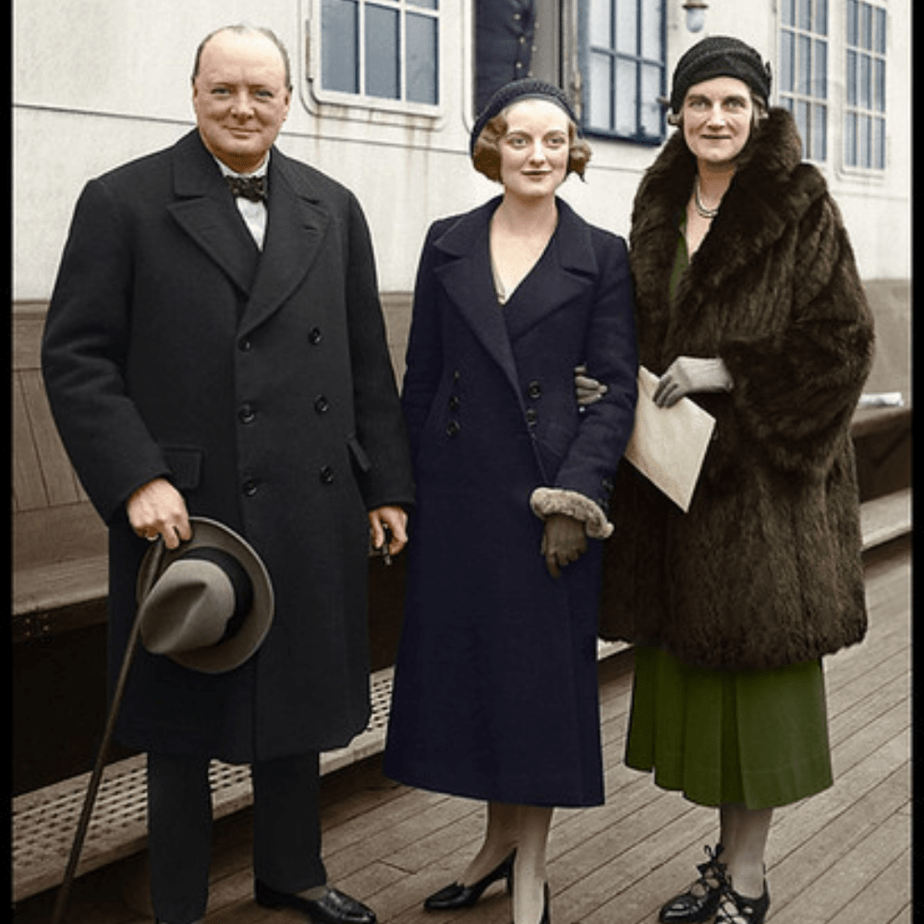 What's the Origin of the Homburg Hat?
The Homburg derives its name from its place of origin, Bad Homburg in Hesse, Germany, where it was used as hunting headgear. It was manufactured by Mockel, a company that started using a steam engine in 1856.
By 1890, the company had more than 100 workers and was exporting top-quality, lightweight hats to several countries.
However, the Homburg hat owes its global success to Prince Edward VII, the heir to the British throne.
Back in the 19th Century, Bad Homburg was a choice spa destination for British nobility. Prince Edward VII, who was reputedly one of the best-dressed men in the late 19th Century, was a regular visitor to the town for its healing waters.
During one of his visits to the German Spa, the prince of Wales saw his German cousin, Kaiser Wilhelm II, wearing a Homburg with his hunting uniform.
He liked the soft felt hat so much that he commissioned the manufacturer to make one more appropriate for city fashion.
While the Kaiser's hat was pale green with a curved brim and a dark headband, Prince Edward opted for one in grey felt.
During the Victorian era, top hats were a crucial part of a gentleman's attire. However, they were often stiff and uncomfortable, which also contributed to the popularity of the Homburg hat.
Mockel made the Homburg hat from soft, slightly stiffened felt, making it much more comfortable and gentler on the head. Since it was semi-informal, the hat became a ready compromise between stiff, formal hats and the soft informal fedoras.
The Homburg hat was lightweight and had a narrower and taller crown, which caused it to perch higher on a gentleman's head.
The hat's high degree of comfort and endorsement from the Prince of Wales crowned its elite status.
The elegant, stylish felt hat was worn when strolling in town or instead of a boater's hat.
Since Mockel held the patent to the Homburg and was the sole manufacturer, the hat's shape and style stayed the same. However, the post-1914 design featured a diminished brim curl and reduced crown height.
Discover more intriguing facts about Homburg hats here.
Churchill and His Homburg Hats
Churchill started wearing Homburgs as early as 1910 and was photographed wearing them while laying bricks, painting, and even gardening.
He even paired them with his famous siren suits. The siren suits were zippered imitations of the uniform worn by Chartwell bricklayers.
But it wasn't until the 1943 Casablanca meeting with Franklin D. Roosevelt that the world started associating Churchill with the hat. A picture of the premier wearing a gray Homburg made global headlines, and it became his signature hat from then on.
According to his long-time secretary and archivist, Churchill had a distaste for that gray Homburg. He only wore it to official functions and important meetings.
Ironically, Churchill's least favorite hat drew the world's attention to his fondness of the Homburg hats.
On May 9, 1991, Sotheby auctioned the gray Homburg hat Winston Churchill wore during the 1943 Casablanca conference for £5,000.
A more affordable way to look good in a Homburg is this popular stylish hat from Dorfman Pacific on Amazon.
Other Historical Figures Who Favored the Homburg
The Homburg hat was often referred to as the aristocrat of men's hat and as such was a top pick for many influential figures, including:
Anthony Eden
A cabinet minister in the 1930s, Eden was the second most influential British leader to popularize the Homburg hats. Eden picked a silk-brimmed black Homburg over the staple trilby and bowler hats.
Since he was renowned for his sartorial elegance, Eden's dressing habits were influential. The hat soon became associated with him and given the moniker Anthony Eden hat or Anthony Eden.
At Savile Row, London's bespoke tailoring powerhouse, the Homburg was known as Eden. Although the terms were informal, they became so popular that they are listed in the 17th Brewer's Dictionary of Phrase and Fable.
Dwight D. Eisenhower
The 34th American president, Dwight D. Eisenhower, topped his stroller suit with a black Homburg during his second inauguration on January 20, 1953.
Al Pacino
The American actor wore a grey Homburg in the 1972 crime film The Godfather, causing a surge in the hat's popularity. The hat became synonymous with Al Pacino's character, Don Corleone, and became known as Godfather. The resurgence came when the popularity of formal hats was on the decline.
Konrad Adenauer
The German Chancellor Konrad Adenauer wore a black Homburg hat from an Austrian hat manufacturer.
Winston Churchill's Other Hats
In addition to the Homburgs, Winston Churchill wore several other hats, as was the norm for a man of his stature. His collection of hats included:
Gray Top Hat
Also known as a high hat or a topper, the top hat is a tall formal hat with a flat crown often worn with a dress suit, a frock coat, or a morning dress.
Initially, manufacturers made top hats from beaver felt but gradually switched to silk. Silk top hats were soft and collapsible, making for easy storage during travel.
Some of the notable figures who made this iconic accessory famous include Abraham Lincoln, Fred Astaire, and the Mad Hatter, a Fictional character from the movie Alice in Wonderland.
Top hats were also popular with 19th-century dignitaries, magicians, and Freemasons. The headgear became a symbol of sartorial elegance among men.
Discover more intriguing facts about top hats here.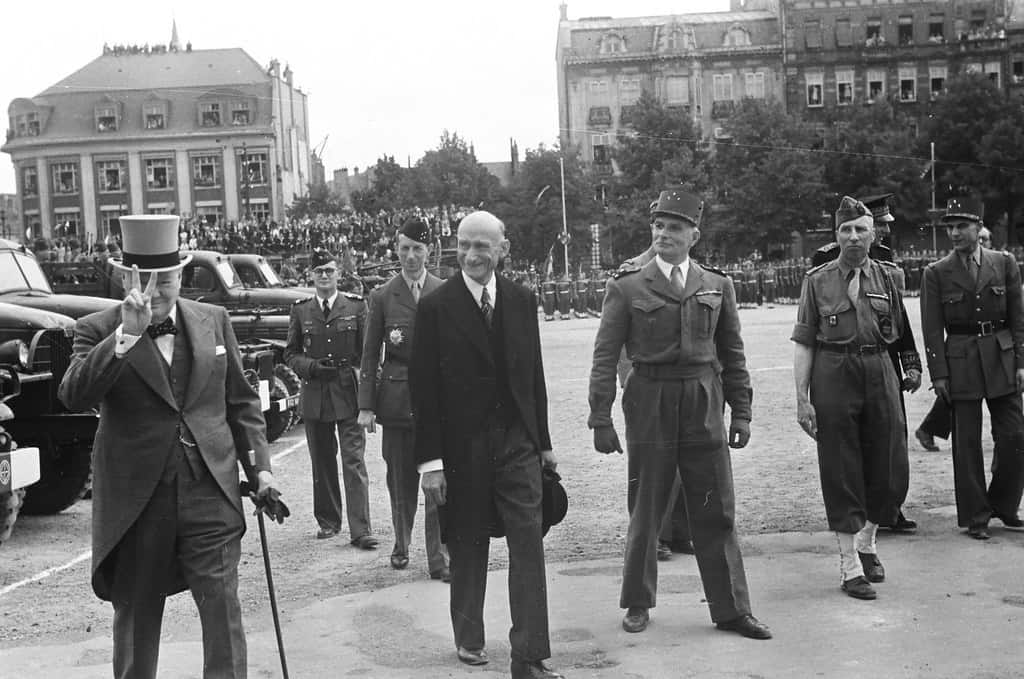 Straw Panama
Also known as toquilla straw hat or Ecuadorian hat, this is a brimmed straw hat made from plaited leaves of toquilla palm. The breathable, lightweight, and light-colored hats often accessorized linen and silk summer suits.
Despite being called Panama hats, these straw hats are made in Ecuador, not in Panama. The hats became famous in the US after president Theodore Roosevelt was pictured wearing one when visiting the Panama Canal in 1904. The Ecuadorian straw hats then become famous under the name 'Panama hat'.
Discover more intriguing facts about Panama hats here.
John Bull Hat
It's a shorter and belled version of the tall hat. The headgear was named after John Bull, a fictional character from John Arbuthnot's satirical works.
John Bull was a portly man who personified the UK in satirical works. He wore a shallow crowned top hat, a tailcoat, and light-colored breeches to signify his middle-class identity.
The woolen hat had a slightly flared crown, a slightly curved brim bound with a grosgrain ribbon trim.
Tan Stetson
This is a dress hat, a more distinguished version of the popular cowboy-style hat produced by J.B. Stetson. It had a narrower brim and a shorter crown and was made from soft-felt.
The company produced expensive, luxurious hats that became an indispensable part of every gentleman's wardrobe. For city dwellers, a Stetson was a statement of success.
Stetson hats are associated with many legendary figures, including Will Rogers, Buffalo Bill, Annie Oakley, and George Custer. The hats became a staple in many western movies.
Scott & Co, a renowned hat manufacturer on Old Bond Street, London, made most of Churchill's hats. The company was acquired by Lock & Co. in 1969 and is still operational today.
Discover the difference between a fedora and a stetson here.
A Man of Many Hats
Winston Churchill was a man of many hats and a refined sense of fashion. He wore all the popular hats during his time, including a John Bull, Panama straw, top hat, and a Stetson. However, he's most renowned for his appreciation of the Homburg hats.
Ironically, it's his least favorite Homburg hat that grabbed global attention in 1943 after he was photographed alongside Theodore Roosevelt. The gray Homburg he wore at the Casablanca conference made the brand his signature hat. Winston wore the Homburg hats from 1910 to 1965 when he passed away.